DELIVERY LETTER RECEIVE CORPORATE APPOINTMENT IN THE ENVIRONMENT OF FISIP UNUD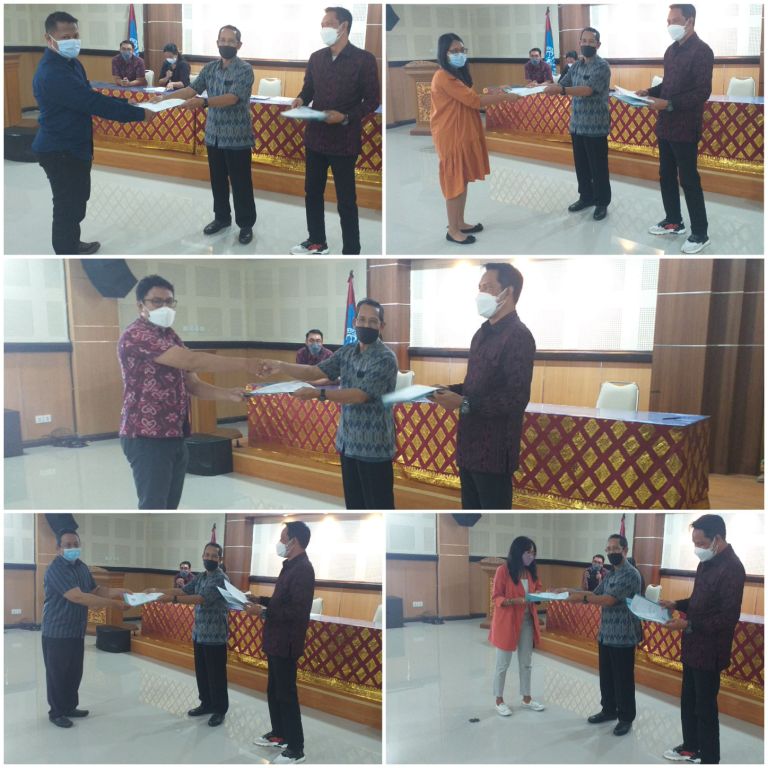 On Tuesday, January 18, 202, at the 4th floor hall of the Fisip Unud Building, the Udayana University Chancellor's Decree (SK) was presented on the appointment of a new Study Program Coordinator in the Faculty of Social and Political Sciences, Unud for the period 2022 – 2026. The decision letter was submitted by the Dean of Fisip, Dr. I Nengah Punia. Before the Rector's Decree was submitted to each Study Program Coordinator, the Dean along with the Deputy Deans and Mr. KTU congratulated and briefly explained the duties and responsibilities that would be carried out by all Koprodi.
The Dean hopes that the new Koprodi can carry out their duties and obligations well, build good cooperation and coordination with all parties, be it colleagues in Study Programs, lecturers, deans and education staff in the administration section. It was also emphasized that it was in the hands of Koprodi that the performance improvement of Unud was based on the Key Performance Indicators (IKU). For this reason, it is hoped that all activities, planning and breakthroughs that the Study Program can do to support the achievement of the KPI. Of the 8 KPIs, there are several KPIs that can be the main targets of Study Programs, such as uptake of graduates, case method-based courses to inviting practitioners to teach on campus.
In addition, the Dean also hopes that the new Koprodi will fully support the Merdeka Learning Campus Merdeka (MBKM) program, where students are expected to study off campus. To then help students receive broader knowledge and provide this opportunity to students and assist in the KRS recognition process and course conversion. FISIP has a task ahead of us, namely improving data, both at PDDIKTI and updating data and activities at Simponipadi to support accreditation in four study programs, namely State Administration, Communication Studies, Sociology and D3 Library this year.