FAPET UNUD RETURNS TO BECOME HOST OF FUNDAMENTAL OF ANIMAL NUTRITION AND FEED FORMULATION TRAINING IN 2023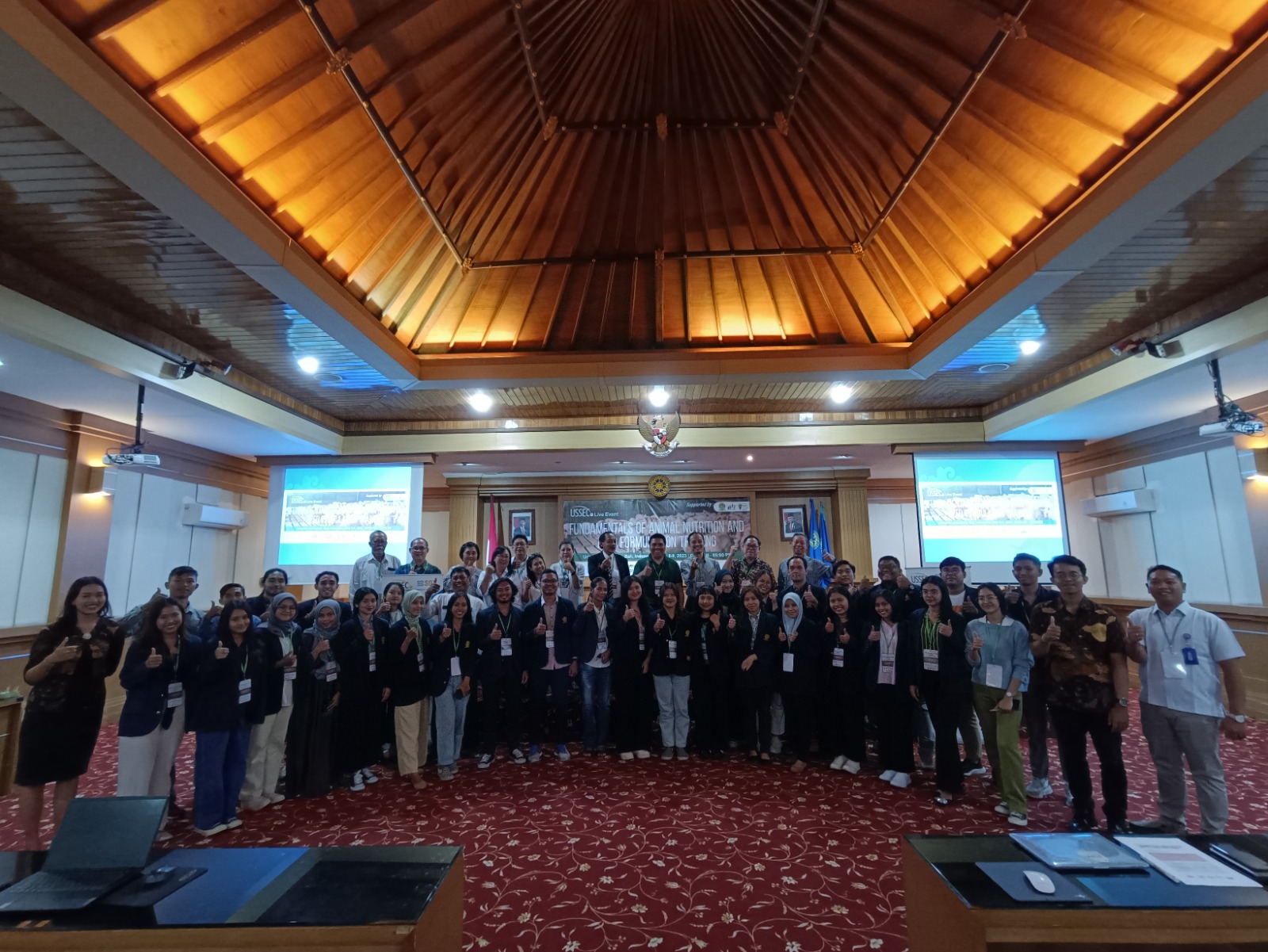 The Faculty of Animal Husbandry, Udayana University (Fapet Unud) has again been entrusted with hosting the Fundamental of Animal Nutrition and Feed Formulation Training activities in 2023. This activity is a collaboration between Fapet Unud and U.S. Soybean Export Council (USSEC) Indonesia, the Indonesian Pig Livestock Scientific Association (AITBI), and the Association of Indonesian Monogastric Veterinarians (ADHMI), which was held at the Postgraduate Building, Sudirman Campus, Denpasar. The implementation of the event chaired by Dr. Ir. Ni Luh Gde Sumardani, S.Pt., M.Sc., was held for two days, starting from Monday, May 8 to Tuesday, May 9 2023, which was held with participants from Unud Faculty of Animal Husbandry students for bachelor, master, and doctoral levels; alumni; as well as lecturers in the Faculty of Animal Husbandry of Udayana University.
The first day's activities began with remarks by the Director of USSEC Indonesia, Ibnu Edy Wiyono, S.E., M.SE .; Chairman of ADHMI, drh. Michael Indra Wahyudi, DVM, MBA.; and remarks as well as the opening of the event by the Dean of the Faculty of Animal Husbandry of Udayana University who also serves as Chair of AITBI, Dr. Ir. I Nyoman Tirta Ariana, M.S., IPU., ASEAN Eng. After various remarks, the event continued with a group photo session and presentation of material by competent speakers in their fields, namely Swine Nutrition Requirements and Swine Feeding Management for Piglet, Gestation, Lactation, and Fattening by Dr. Rommel Sulabo, University of the Philippines Los Banos; Feed Ingredients: Availability, Nutrient Profile, and Quality Control and Swine Feed Formulation by Prof. Dr. Budi Tangendjaja; and Swine Feed Production: Good Manufacturing Practices and Finished Feed Storage Management by Alfred Kompudu.
The second day's activities continued with the presentation of material on Performance Measurement for Gestation, Lactation, and Fattening, Dr. Rommel Sulabo, University of the Philippines Los Banos; Economic Analysis of Swine Farm Business in Indonesia and Nutrition and Gut Health by drh. Maikel Indra Wahyudi, MBA., Impact of Nutrition on Meat Quality by Dr. Nischal Sharma; and Sustainability in Feed Production by Ibnu Edy Wiyono. The event then ended with the delivery of messages from three representatives of the training participants and was closed by the master of ceremonies.