MECARU CEREMONY AND MELASPAS DEANAT BUILDING OF THE UNIVERSITY OF THE UNIVERSITY OF PUBLIC SCHOOL, JIMBARAN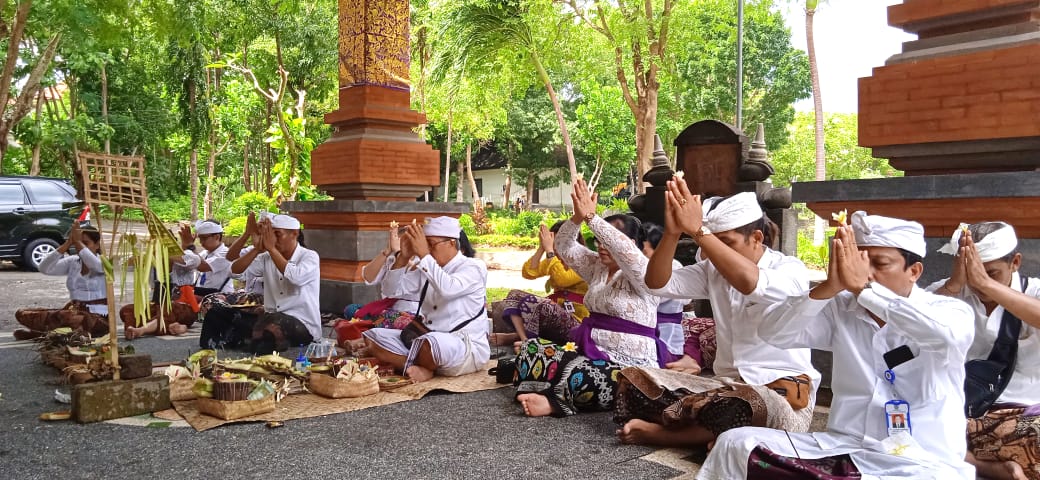 In connection with the completion of the renovation repair project for the AA building which was used as the Dean of the Faculty of Animal Husbandry at Udayana University in Bukit Jimbaran, the faculty carried out the Mecaru and Melaspas Building Ceremonies on Soma Pahing Merakih, Monday (20 February 2023). The ceremony, which also coincides with Tilem Sasih Kewulu Day, aims to ask for safety and welfare from Ida Sang Hyang Widhi Wasa/God Almighty, as well as to purify the new Dean's building so that it can function properly and can support activities at the faculty.
The building's Mecaru and Melaspas ceremonies were attended by Deputy Dean I for Academic and Planning (Dr. Ir. Dewi Ayu Warmadewi, S.Pt., M.Si., IPM., ASEAN Eng.), Deputy Dean II for General Affairs and Finance ( Dr. Ir. Budi Rahayu Tanama Putri, S.Pt., MM., IPU.. ASEAN. Eng), Deputy Dean III for Student Affairs and Information (Dr. I Nyoman Sumerta Miwada, S.Pt., M.P.), Coordinator of S1 Study Program, Unit Ko, Head of the Lab, TU Coordinator, Tendik and employees within the Faculty of Animal Husbandry, Udayana University.
The core activities of the Mecaru and Melaspas Gedung Ceremonies last for approximately 3 hours, from 09.00 to 12.00 WITA. Nevertheless, in the morning at around 07.00 WITA, several employees were seen busy preparing the facilities and infrastructure for the smooth running of the event such as: Making a caru hole in the 60 x60 x60 cm office yard, decorating the building, preparing a table for offering offerings. From the beginning of preparations to the end of the event, Dewa Yadnya's activities were able to run smoothly without significant obstacles or obstacles and while still observing health protocols to prevent the spread of Covid-19.