BRIEFER and Udayana University Strengthen Quality Human Resources for Communication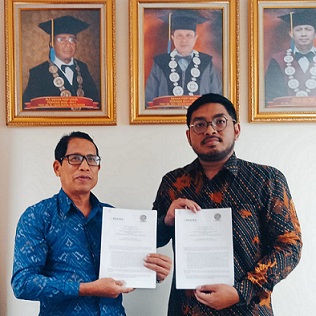 Denpasar, 23 September 2022 - BRIEFER and Udayana University collaborate to strengthen the quality of human resources in the consulting service industry in the communication sector. This partnership began with the signing of a cooperation agreement (MoU) by the Chief Executive Officer of BRIEFER, Aditya Sani, and the Dean of FISIP Udayana University, I Nengah Punia, Friday (23/09).
This collaboration includes the recruitment of Udayana University academics as BRIEFER Specialists in providing communication consulting services, channeling talented students and students in communication projects, as well as providing a forum for internships, research and discussion rooms.
As is well known, BRIEFER is a digital communication platform that is home to experts, professionals, and specialists in providing consulting services for Brands, Corporations, Businesses, Institutions, Individuals to Governments.
Aditya Sani said that the contribution of academics through a combination of knowledge and practice can produce more effective communication consulting services output. Therefore, BRIEFER provides a communication platform as a space to develop, collaborate, and work with related parties to foster business innovation in Bali.
It is known that the report on the Business Activity Survey during the 2021 Bali Province COVID-19 Pandemic which was released by the Central Statistics Agency (BPS), Bali's economy began to climb again at the end of 2021, since its decline during the pandemic. Meanwhile, in the first quarter of 2022, Bali's economy began to grow positively by 1.46 percent and in the second quarter it grew 3.04 percent. For this reason, consulting services are needed to help promote economic growth.
"We hope that this collaboration can provide concrete communication solutions while strengthening the consulting service industry in Indonesia." said Aditya.
On this occasion, the Dean of the Faculty of Social and Political Sciences, Communications at Udayana University, I Nengah Punia, welcomed this collaboration and collaboration.
in the field of communication science. The collaboration of academics and practitioners through the BRIEFER platform is also able to help meet the communication needs of the community.
"This collaboration is the right step, in line with the mission of the Faculty of Social and Political Sciences, Udayana University as a center for communication studies that aims to improve the quality of human resources and be able to provide useful solutions for business." close I Nengah Punia.***