BOOKS WAS WRITTEN BY DR. V.E. KORN ABOUT BALI CUSTOMARY LAY (HET ADATRECHT VAN BALI) REVIEWED IN UNUD
20 Oktober 2017
Pageviews 1950 times
Denpasar - Udayana University Press held the Bali Customary Book Discussion (Het Adatrecht van Bali) by Dr. V.E. Korn, on Thursday (10/19/2017) at the Medical Faculty Meeting Room of Unud Campus Sudirman Denpasar. This book is a book on Balinese customary law which was originally written in Dutch and published in the Netherlands in 1932. The event was attended by representatives of Heads of Provincial and District Cultural Offices, Majelis Utama Desa Pakraman, academics and the general public. On this occasion also held book submission by Director of Udayana University Press, Drs. Jiwa Atmaja, SU to Rector of Unud, Representative of Majelis Desa Pakraman and Bali Traditional Law Translator I Nengah Merta.
Prof. Ir. Dewa Ketut Harya Putra, M.Sc.Ph.D, as the Chairman of the Organizing Committee, delivered the translation book translation and related to Balinese Customary Law which was first implemented. The book that usually translated was the latest science books, but this time the book that was reviewed, it was a book about the things that prevailed in Bali long ago of adat law. Legal experts and the Majelis Utama Desa Pakraman are expected to dissect and know what is stated in this book. Customary law is very interesting to discuss because it involves a harmonious relationship between humans which includes Tri Hita Karana. This activity was also intended to further development of the scientific atmosphere in publishing books. During this Udayana University Press always tries to translate books which is related to science and culture in Bali.
Rector of Unud, Prof. Dr. dr. A A. Raka Sudewi, Sp.S (K) in her speech said that the event was very important to introduce to the general public about Balinese customary law which is a monumental work of dissertation which because it is written in Dutch so that not many people can understand its contents. Udayana University Press's efforts to translate this book and distribute it to the public, especially the people of Bali should get a support in the future. This book is very important not only for the academics but also the people of Bali to better understand their own culture.
As the authors pointed out, this local genius of the Balinese is not only visible to archaeologists but also in building the customary law system. The customary law system built which it proves to be effective in encouraging people to live in harmony, mutual respect, discipline, mutual guarding in upholding honesty. The Rector hopes that adat law experts can re-examine the Balinese customary law system that may be used as a guide for common life within indigenous village communities.
In this book, two presenters presented Prof. Dr. Wayan P. Windia, Sh.M.Si and Tody Sasmitha Jiwa Utama, SH., LL.M. Prof. Wayan P. Windia conveyed in his observations what V.E. Korn did against Balinese customary law is similar to the role of Van Vollenoven against Indonesian customary law which earned the nickname "Bapak Hukum Adat Indonesia". (PR)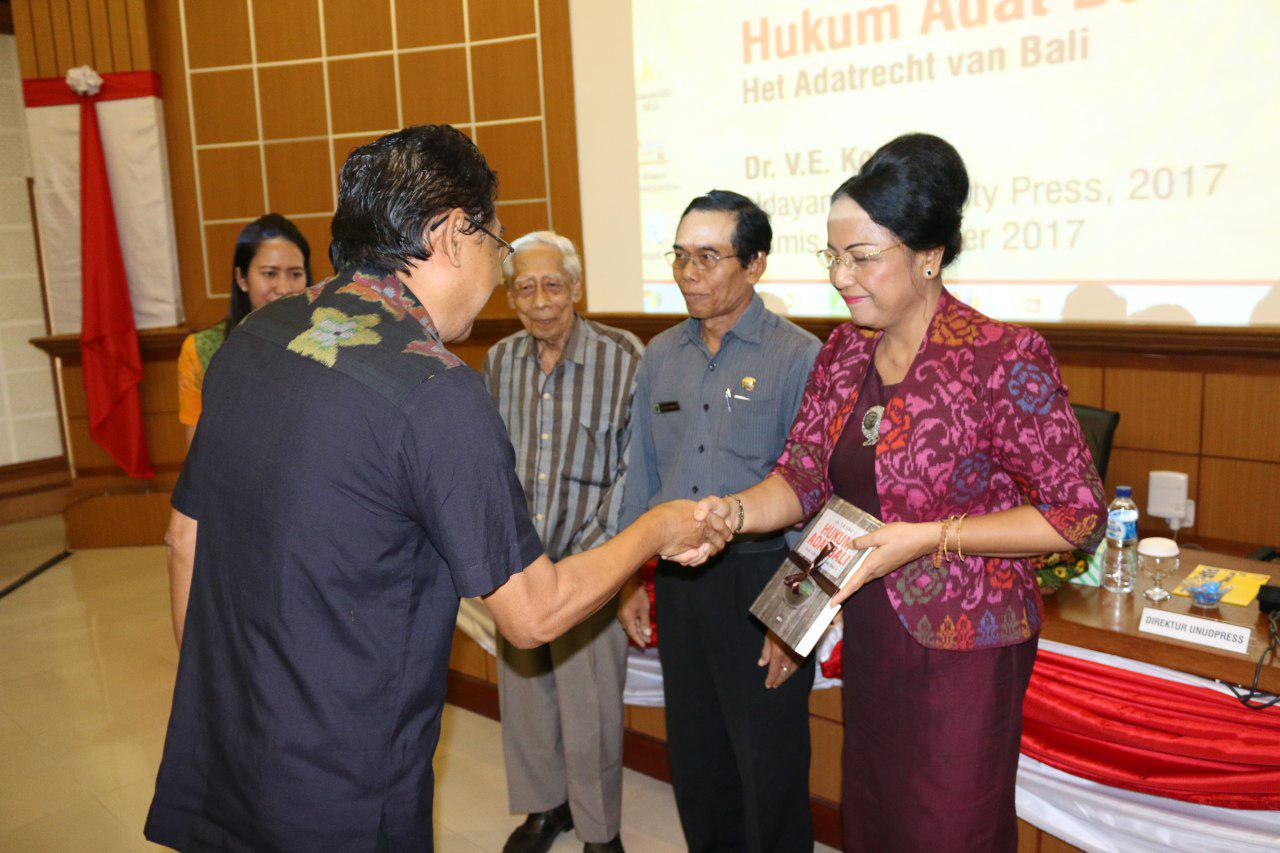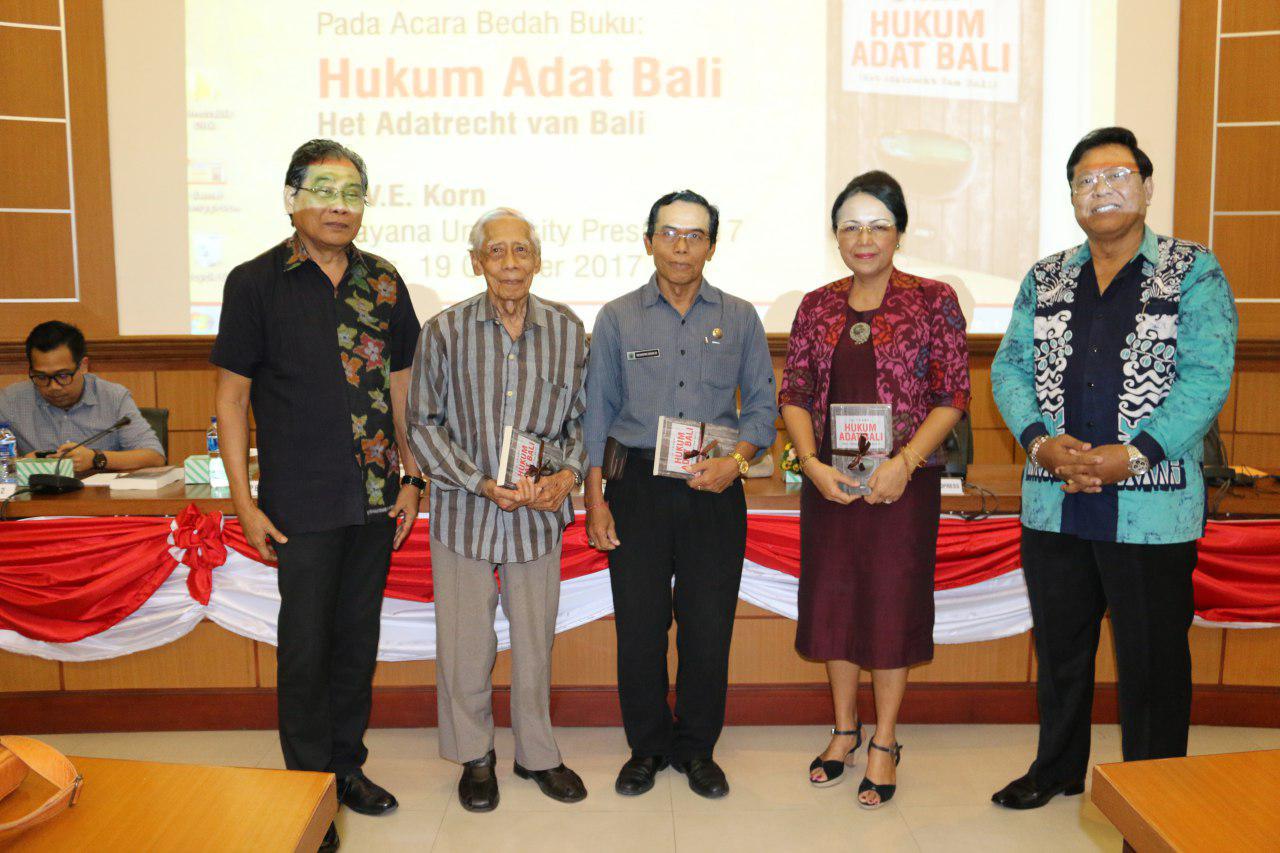 (Submission of Books by DR. V.E. KORN About Bali Customary Law (HET ADATRECHT VAN BALI) To Rector of Udayana University)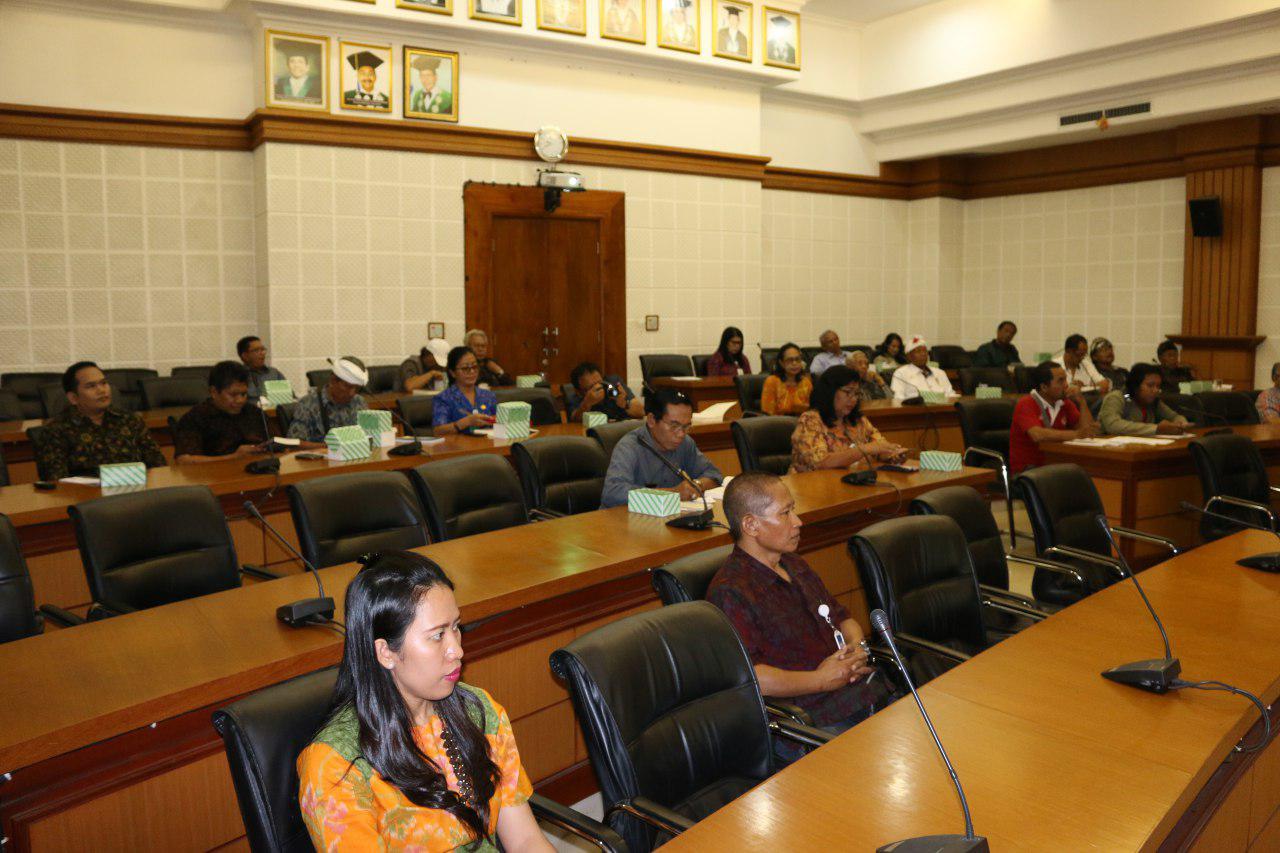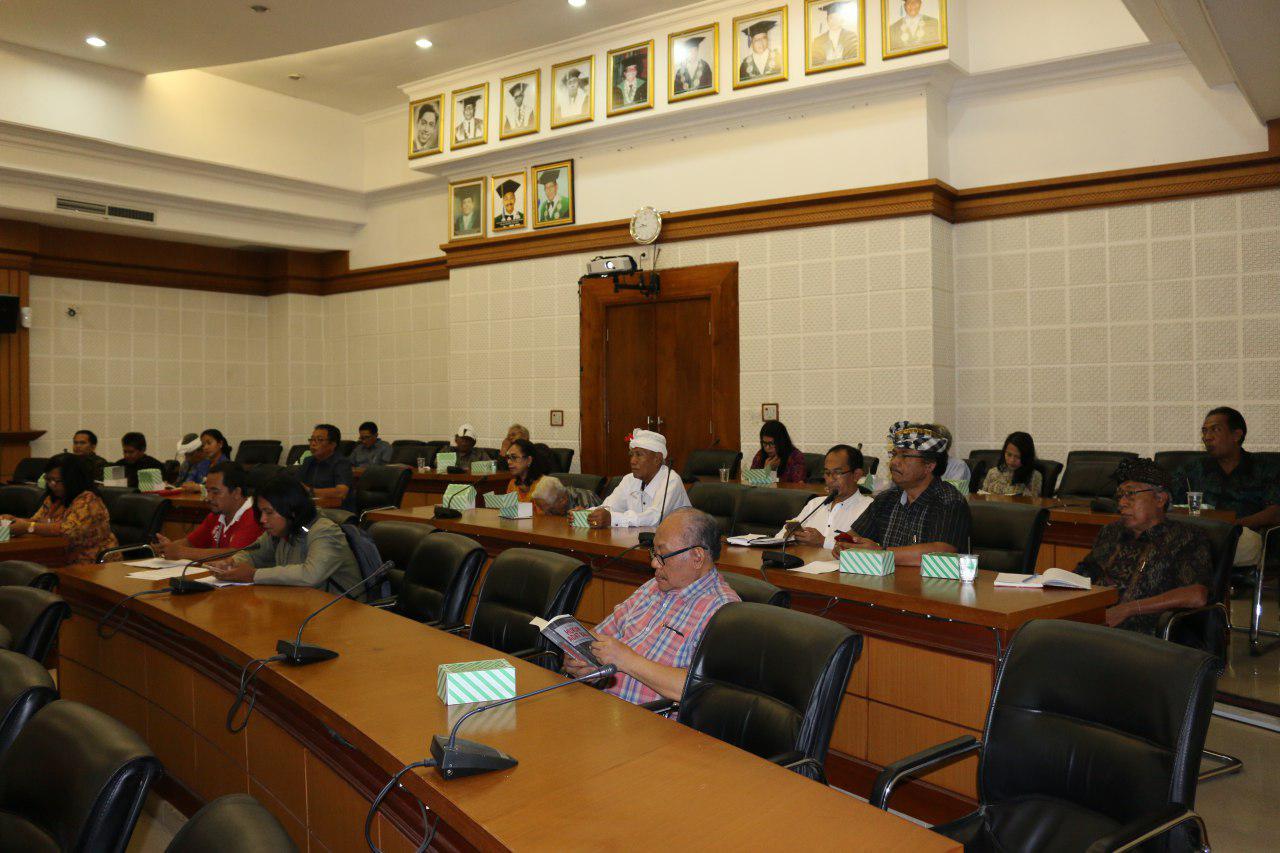 ​(The event was attended by representatives of Heads of Provincial and District Cultural Offices, Majelis Utama Desa Pakraman, academics and the general public)