GRAND FINAL JEGEG BAGUS FISIP UDAYANA 2022, FINALIST JEGEG BAGUS PUBLIC ADMINISTRATION ENGAGES PROUD ACHIEVEMENTS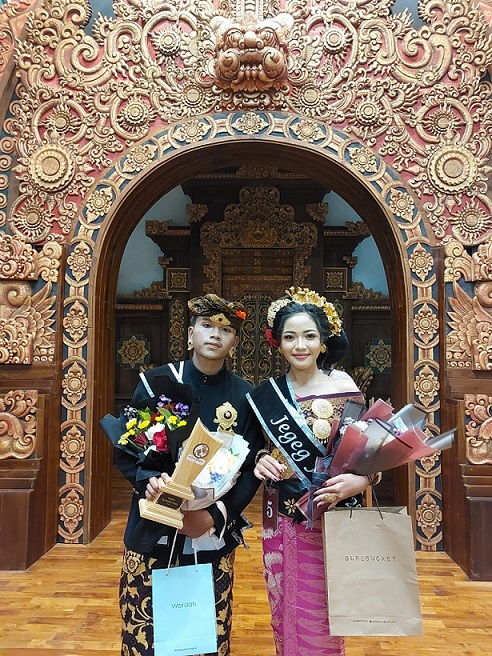 Jegeg Bagus FISIP is an activity held at the faculty level, namely the Faculty of Social and Political Sciences. One of the work programs of Abisatya Mandala's cabinet, Department of Interests and Talents. Jegeg Bagus FISIP 2022 is a forum for FISIP students and students to become FISIP icons for the next year. The participants of Jegeg Bagus Fisip were followed by the six study programs in FISIP, especially Public Administration
This activity takes place in various stages, the finalists of Jegeg Bagus FISIP 2022 have gone through a very long selection process and received quite a lot of briefing, this aims to increase the capacity and quality of the finalists. The Jegeg Bagus FISIP 2022 Grand Final will take place today, Sunday, April 24, 2022, at the Taksu Dharma Negara Alaya Theater Building, Lumintang Denpasar.
This series of events was opened by the Dean of FISIP, Dr. Drs. I Nengah Punia, M.Si symbolically by beating the gong. Followed by the Opening Dance Finalist Jegeg Bagus Fisip 2022, for the Public Administration itself represented by Ni Made Bulan Cantika Maharani as finalist Jegeg and Ngakan Made Dwika Sutadewa as finalist Bagus FISIP. As representatives of Study Program, Bulan and Ngakan have gone through a series of stages of Jegeg Bagus FISIP 2022 activities to enter the Grand Final stage, by displaying their best talents and performances. The Grand Final was attended by Anak Agung Ayu Intan Parameswari, S.IP, M, Si; I Made Pramana Sidartawan; and Kadek Dena Ayu Ersafira, S.KG as a team of judges who gave an assessment to each finalist of Jegeg Bagus Fisip 2022.
Arriving at the peak of the event, representatives of Jegeg Bagus Public Administration managed to make a brilliant achievement. Ni Made Bulan Cantika was named Jegeg FISIP 2022 and Jegeg Best Speaker FISIP 2022, Ngakan Made Dwika Sutadewa as Good Talented FISIP 2022.
The Jegeg Bagus Fisip event was marked with boisterous cheers from the audience, this event ended with awarding titles, handing over sashes and prizes to each of the finalists of Jegeg Bagus FISIP 2022. Winners of Jegeg Bagus Fisip 2022 will serve for a full year and will advance to a higher level, namely the Jegeg Bagus University event which will represent the Faculty of Social and Political Sciences.