Mahasiswa S2 Ilmu Lingkungan Meraih Penghargaan the European Union Star Award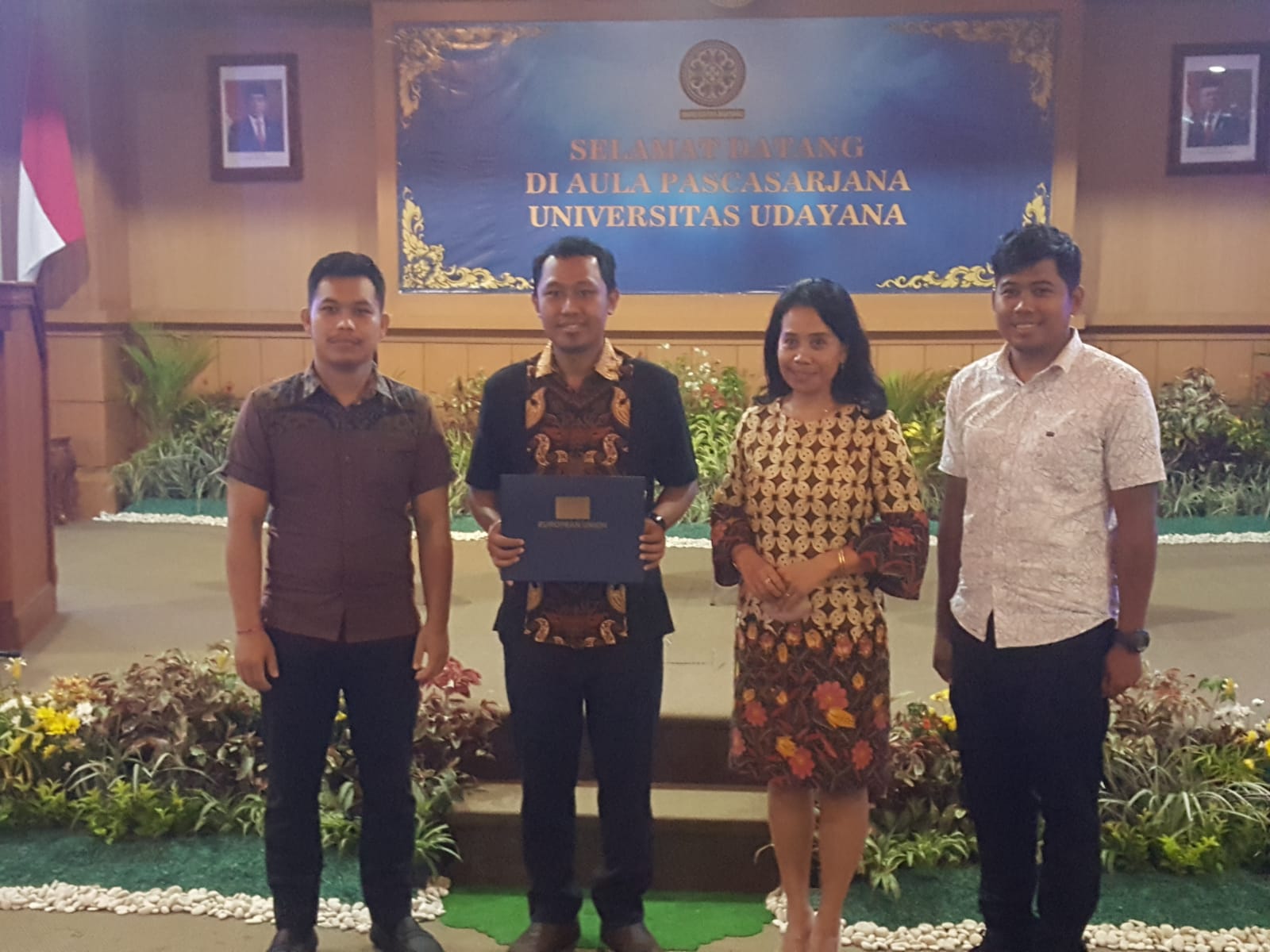 Postgraduate students from Udayana University, Master of Environmental Sciences Study Program make Udayana University proud and of course make Indonesia proud by winning the European Union Star Award at SnT 2021. SnT 2021 is an annual competition on an international scale which is routinely held every 2 years by Comprehensive Nuclear-Test-Ban Treaty Organization (CTBTO). This award was established by the European Union Delegation to International Organizations in Vienna to recognize the most significant new scientific and technological contributions relevant to the Comprehensive Nuclear-Test-Ban Treaty (CTBT). SnT 2021 carries ": Science and Technology Conference". The aim of this International Seminar is to review the progress made in science and technology and to project what developments can be expected in the next 25 years.
As the sixth conference at the CTBT: Science and Technology Conference Series, SnT 2021 is expected to bring together (physically as well as nearly) more than 1000 scientists, technologists, academics, students and representatives of CTBTO policymakers.
In the competition which has been held since June last year, the Environmental Science Masters Study Program sent 4 representatives, namely I Puty Dedy Pratama, Putu Eka Tulistiawan, Pande Komang Gede Negara, and I Ketut Sudiarta who worked for the Meteorology, Climatology and Geophysics Agency (BMKG). ) Bali. With the research title 'Nyepi Day Impact on Weather Parameters Measurement at Synoptic Observation Stations in Bali'. This competition was attended by 700 participants from all over the world
The results of this research were presented at an international seminar meeting initiated by the European Union and the results of the research were amazing. Because with Nyepi we can see how our environment becomes clean, especially in Denpasar City. While in other places it may not look much, because it is in the mountains.
It is this research data that the European Union values ​​as real research results, making an impact on the world, and carried out with sound scientific methods. For this reason, the masters students were given an award as the best research result in Climate Change.
The winner of the European Union Star Award, I Puty Dedy Pratama, admitted that he did not expect to win an award in this competition.
Of course, the success of this team cannot be separated from the support from various parties, especially from KoProdi, the supervisor.
"The Postgraduate Director congratulates the students who are members of the competition team in the SnT 2021 which will be held virtually in Vienna. Various achievements achieved by students in one work team reflect that the learning process at Unud Postgraduate, especially Master of Environmental Sciences has been going well and of good quality," said Director Prof. Ir. Linawati, M.Eng.Sc.,Ph.D.
"Congratulations to the students who won the award. We continue to encourage and facilitate lecturers and students to produce various innovative works of national and international reputation. Hopefully there will be more works that are beneficial to the community." Said the Co-Prodi Master of Environmental Science Ir. Ida Ayu Astarini, M.Sc.,Ph.D.
Presentation can be found on Link
Letter to Udayana - EU Star Award