Sorry, this entry is only available in Indonesia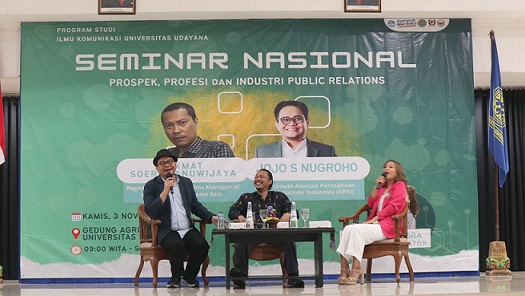 The Communication Studies Program at Udayana University has successfully organized the 2022 Study Program National Seminar with the title "Prospects, Profession, and Public Relations Industry". This event was held on Thursday, November 3, 2022. Located in the Nusantara Room, Udayana University Agrokomplek Building, all participants seemed enthusiastic about receiving the seminar material.
The series of events at this national seminar was opened by Dr. Drs. I Nengah Punia, M.Si. as Dean of the Faculty of Social and Political Sciences, Udayana University. after that, the event continued with national seminar material.
Guided by Mery Alexandra as a moderator who is a Radio Announcer and has a lot of experience in the field of communication, the event is more lively and able to lighten the mood. The moderator then invited Jojo S. Nugroho to provide seminar material.
The material was started by Mr. Jojo who explained that he had been interested in PR since he was in high school. By relying on his hobby of journalism, he finally got the opportunity to hone his knowledge at Communication Studies, University of Indonesia. After going through many life processes, he succeeded and became the general chairman of the Association of Indonesian Public Relations Companies (APRI). According to him, PR aims to achieve a good reputation and must be built because reputation cannot be bought.
The National Seminar on Communications invited not one but two speakers, namely Hikmat Soeriyatanuwijaya who is the Regional Communications Manager at Greenpeace Southeast Asia. The secret recipe for how Greenpeace won the environmental protection campaign is direct action, storytelling, and social media. He said that the Communication Studies gained during college could be used to change the world for the better.
The National Seminar for the Communication Studies Program at Udayana University was closed by giving certificates to the speakers and moderators and then the announcement of the winners of the creative video competition with the theme "Mental Health and Environmental Health. All participants who won each branch of the competition were entitled to receive a number of prizes as a form of appreciation for their work. their hard work and struggle in making the best work.