[Prepare Successor Talents, Himpunan Mahasiswa Administrasi Publik Organizes Jegeg Bagus Public Administration Study Program]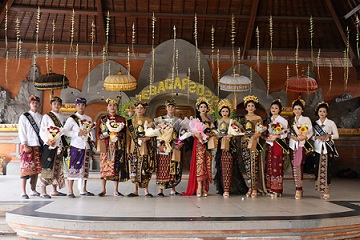 (8/10/2022). Jegeg Bagus activities for the Public Administration Study Program have been held at wantilan Batubulan Traditional Village, Gianyar Regency. This activity carries the theme "Abyakta Abhipraya Sahwahita" with the meaning of the younger generation as hopes that can develop and benefit the community, of course, the participants of this activity are new students of the class of 2022 public administration study program.
Jegeg Bagus Public Administration Study Program (JEBAG AP) takes place in various stages by going through a long selection and training process so that it gets sufficient debriefing and experience, starting from interview tests, talent interests, presentations, and other series towards the peak of the JEBAG AP Grand Final in 2022. Of course, this series of activities is carried out with the aim of preparing the next generation who are talented, capable, and able to carry out tasks in jegeg bagus faculty activities or even up to the University.
The Jegeg Bagus activity which was held on Saturday, October 8, 2022 was opened by the Chairman of the Public Administration Association I Putu Sugiarta symbolically with the beating of gongs and continued with the opening dance of the six selected finalists of JEBAG AP 2022. Before entering the top ceremony, the event continued with the question and answer of the top 6 finalists in determining the Grand Finalists later with the three judges, namely I Dewa Ayu Putri Wirantari, S.IP, MPA, Putu Ratih Padmarini Gantari Sari, and I Kadek Angga Kukuh Setiawan, S.Pd.
At the peak of the event, 2nd Runner Up Jegeg Bagus Admistrasi Publik was crowned on behalf of I Putu Gede Bayu Indra Wahyudi and Ni Kadek Ayu Putri Saraswati, as well as 1st Runner Up on behalf of Made Ngurah Suta Dharmawan and Kadek Hananda Cherry. Then jegeg bagus public administration in 2022 was named, namely Jegeg on behalf of I Dewa Ayu Dwi Jayanthi Candra Dewi and Bagus on behalf of Bara Jones who will hold the title until the next event with another award, namely Jegeg Bagus Best Speaker. In addition to the determination of Jegeg Bagus Public Administration, there were awards to other finalists, namely Jegeg Bagus Favorite, Jegeg on behalf of Ni Komang Ayu Della Anggreni and Bagus on behalf of I Gede Naufal Wisnu Wardana, and Jegeg Bagus Talented was awarded to Jegeg on behalf of Cannysia Sherryl Theodora and Bagus on behalf of I Wayan Dwika Wirasathya Ronthi. The crowning of Jegeg and Good Public Administration is expected to be able to carry out the mandate for up to a full year and step up to the next opportunity.