FOCUSING ON WASTE SORTING, THE PUBLIC ADMINISTRATION STUDENT ASSOCIATION AGAIN HELD COMMUNITY SERVICE IN KERTA GIANYAR VILLAGE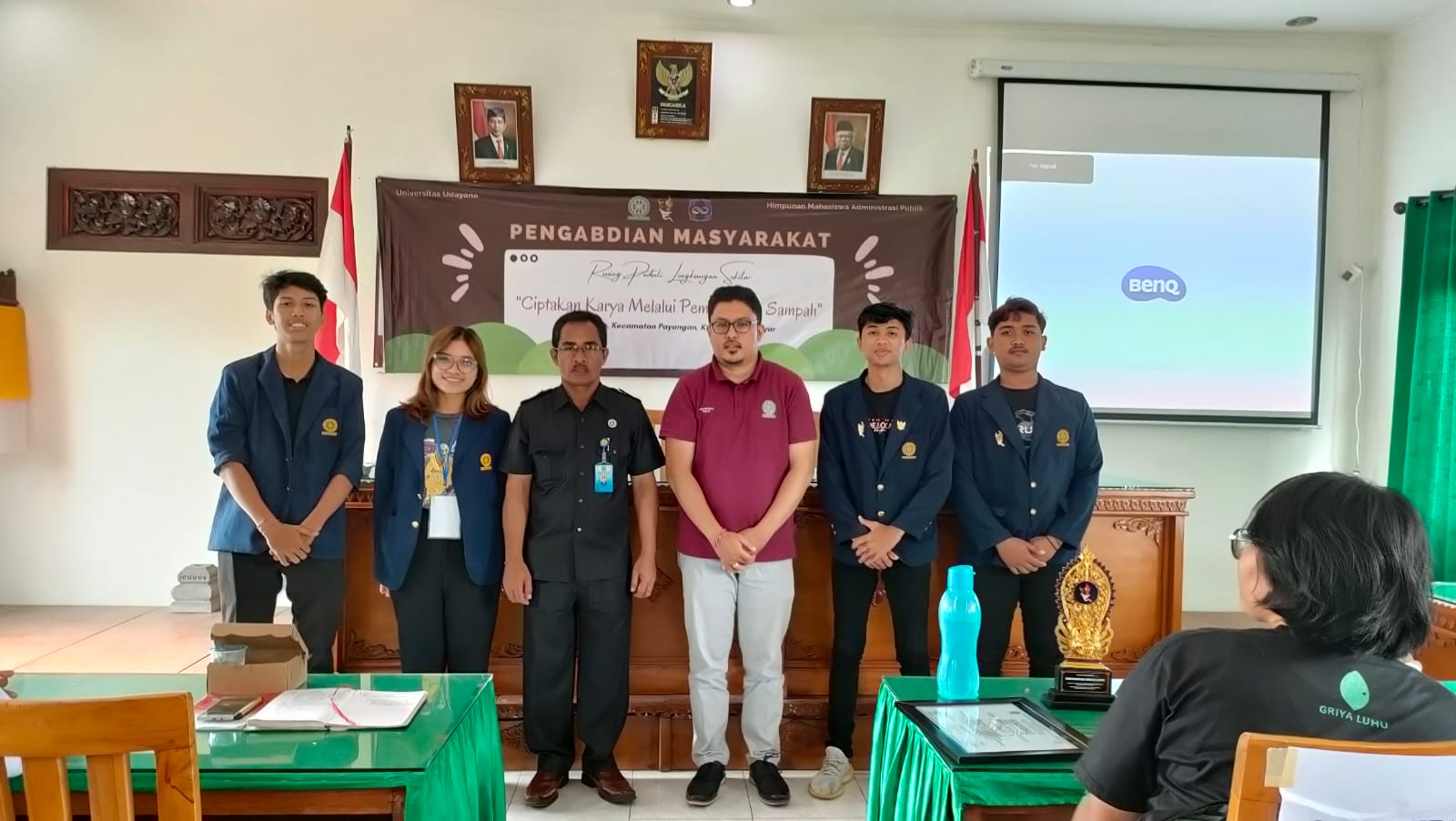 Monday, (3/10/2022). Himpunan Mahasiswa Administrasi Publik again held community service in Kerta Village, Payangan District with the theme "CREATE WORKS THROUGH WASTE UTILIZATION". This second activity program continues to collaborate with Lecturers of Public Administration, which is coordinated by Mr. I Putu Dharmanu Yudartha, S.Sos, M.PA. The series of activities in the 2nd Peka Room began with remarks by the Coordinator of the Public Administration Study Program Mr. I Putu Dharmanu Yudartha, S.Sos, M.PA and a speech by the Head of Kerta Village Mr. Made Gunawan, SP, SH, M.Par, then continued the main event, namely Socialization on Plastic Waste Management, Presentation of the Griya Luhu Waste Bank Program, and Waste Management Practices by presenting speakers from the Griya Luhu Community, namely Alvina Febrilia Arantika, S.Kom.
In her socialization, Ms. Alvina explained the urgency of handling environmentally friendly waste, including by emphasizing prevention through 3R (Reuse, Reduce, and Recycle), re-creating awareness of responsibility for individual waste from the community, categorizing waste, residues, waste banks, and all materials. The implementation of this community service is carried out on the advice and needs of the Kerta Village community which is expected to be able to provide benefits to the community and Kerta Village government. In addition to holding a socialization by a very extraordinary speaker, at this 2nd Community Service Room Peka also carried out direct waste management practices which are expected to be held in a sustainable manner in Kerta Village. Later this program will be continued by students of the KKN-T program of the Faculty of Social and Political Sciences.
The success of this community service organized by students and lecturers of the public administration study program cannot be separated from the help and cooperation of various parties. Of course, the organizers thank the Kerta Village Community and Government, KKN-T Students and Griya Luhu as the parties involved in this service activity. At the end of the event, the 2nd RUANG PEKA in 2022 was closed with a group photo session and the handing over of commemorative plaques to the Griya Luhu Community and the symbolic handing over of trash bins to Kertha Village.