Encouraging Sustainable Ecotourism Environmental Management, Environmental Science Doctoral Program carries out Community Service at Kanto Lampo Tourism Object, Beng Village, Gianyar District, Gianyar Regency
Posted by Pascasarjana
28 September 2022
Pageviews 1010 times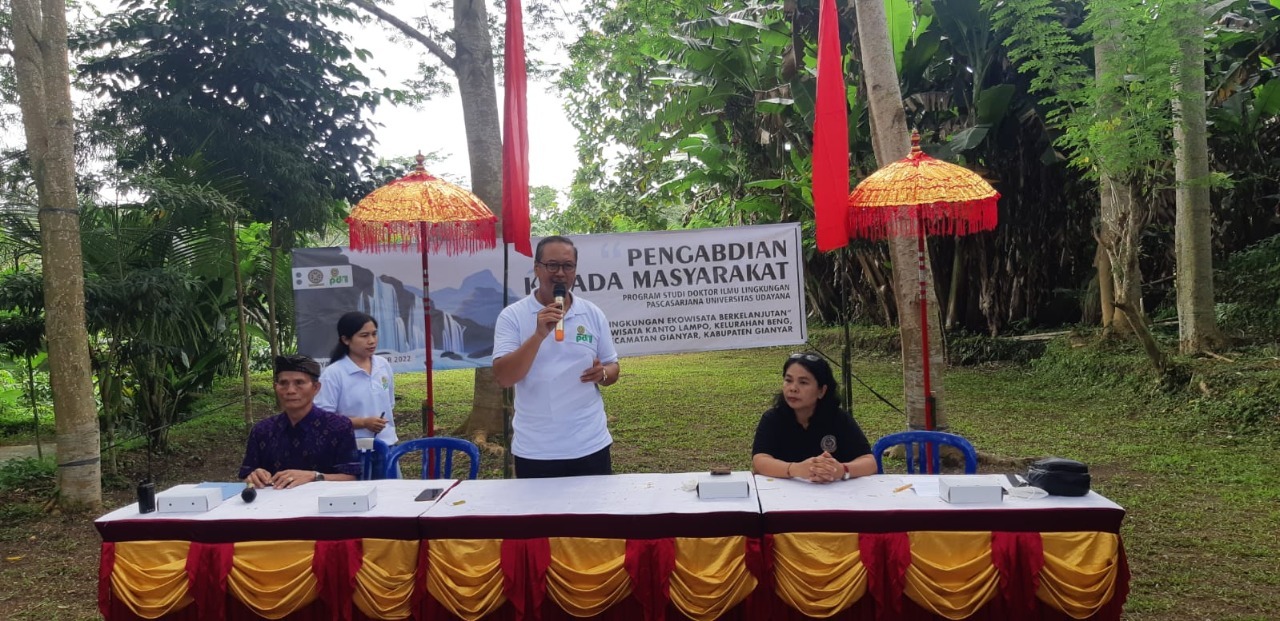 Ecotourism is a concept of sustainable tourism development that aims to support environmental conservation efforts and increase community participation in the management that is carried out, so that the economic benefits of the local community. Responding to tourism developments, especially in Gianyar, the Environmental Science Doctoral Study Program, Postgraduate, Udayana University carried out Community Service activities on Friday, September 23, 2022 which took place at Kanto Lampo Tourism Object, Banjar Kelod Kangin, Beng Village, Gianyar District, Gianyar Regency. This activity was attended by managers of study programs, lecturers, students, the Gianyar Regency Tourism Office, Banjar community leaders Kelod Kangin, community members, and managers of Kanto Lampo Tourism Objects. Unlike other waterfalls in Bali, Kanto Lampo is not too far from residential areas, precisely in the lowlands of Banjar Kelod Kangin. The trekking path that must be passed is also not too difficult, this is the advantage of Kanto Lampo Waterfall.
The activity began with remarks from the Kanto Lampo Tourism Object Manager which in this case was given by Kelian Adat Banjar Kelod Kangin Nyoman Suta. In his remarks, Nyoman Suta expressed his deep gratitude for carrying out this Community Service activity at the Kanto Lampo Tourism Object, where this object was only reopened about three months ago after the Covid 19 pandemic. Also added the name Kanto Lampo which comes from a tree similar to Juwet around the river by local residents. This waterfall also has water sources from the ground and irrigation canals, which residents use to irrigate subak overflowing because some of the channels are clogged. This overflow is what forms the flow of the waterfall until now. In addition, Kanto Lampo Waterfall is also one of the Beji in Bali or a sacred place for Mendak Toya Ning (looking for holy water from the village) for Pitra Yadnya and Dewa Yadnya ceremonies, and there are also several sacred shrines added. Suta also expects input from lecturers and study program managers and assistance from related parties for the development of this Kanto Lampo tourist attraction.
After that, the activity continued with remarks from the Coordinator of the Postgraduate Environmental Science Doctoral Program at Udayana University (PDIL Post Unud) Prof. Ir. I Wayan Arthana, MS., PhD., who advised the public that Beng Village has the power of this natural tourist attraction, then there is a nationally famous culinary object and a place for religious activities, namely Taman Prakerti Bhuana which has reached consumers throughout the archipelago. From that strength, spiritual tourism can be developed in addition to ecotourism such as bird watching, biking and camping ground. In order for ecotourism that is developed to be classified as green tourism, the handling of solid waste must be an important concern, plastic waste must be managed very well, not to be scattered, as well as smoking areas must be determined, Arthana added. Furthermore, innovation to be able to show the uniqueness of objects can be enriched by beautifying the path to the waterfall object, providing typical Beng Village snacks with interesting dishes, arranging different entrances and exits so that they are not boring. It was also added that no less important, the manager must be able to get impressions and messages from tourists both by writing guest books and distributing short questionnaires so that criticism and suggestions from tourists will be very useful for improving objects so that they are more liked by tourists.
The Gianyar Regency Tourism Office which on this occasion was represented by the Secretary of the Service, Pande Putu Ayu Sri Ratnawati. S.Pt. M.Si, explained about the potential and superior ecotourism programs in East Gianyar. According to Pande, the Gianyar Regency Tourism Office is realizing one of the Gianyar Regency Government's missions, namely building inclusive and culture-based tourism. In the future, it is hoped that this attraction will not only display natural tourism, but also will be balanced with cultural tourism, especially accommodating local culture by involving the community around the location. He also added that this service program can be implemented in other areas in East Gianyar, so that it can add insight and ideas for tourism object managers and the surrounding community who support the development of the tourist attraction.
In the discussion session, participants were given the opportunity to provide suggestions, input, questions to both the manager and presenters. Dr. Ir. I Made Sudarma, MS, one of the lecturers present who also happened to be the Chair of the Bali Watershed Forum, offered to the community/tourist attraction managers if they needed assistance with conservation plant seeds, they could apply to the Suwung Permanent Nursery, the Unda Anyar Watershed Management Center and Protected Forest, or through Sudarma, which will be immediately applied to BPDAS HL Unda Anyar. It is also hoped that the shade trees that have stood firmly around the location should be preserved, aka not cut down. From the Banjar community representative Kelod Kangin Nyoman Sukartha, who is a doctor and one of the stakeholders at Taman Prakerti Bhuana, gave input to the manager so that later it can be arranged or added space for young people, in the form of spots to do activities such as camping. Mr. Nyoman also greatly appreciated the activities facilitated by PDIL Post Unud, especially providing additional insight for managers to develop tourism objects while maintaining environmental balance. Meanwhile, Cipta Sudewa, student representatives hoped that Kanto Lampo could become the brand image of Beng Village. From the point of view of Cipta policy, it is highlighted that the Spatial Planning Regulations for both the RTRW and RDTR of Gianyar Regency should support the existence of Kanto Lampo so that its existence will not be eroded by other development functions. It was also added that the meaning of Kanto Lampo must be able to become the dominant thing in this tourist attraction area and not be a minor plant, even local wisdom should be explored in the plant. The discussion was closed by Kadek Ariana Kelian of the Banjar Office, Kelod Kangin, expressing that he was very lucky to have chosen the Kanto Lampo Tourism Object as the location for the service, because he got ideas and input from the participants, especially the lecturers who were present, most of whom already held professorship titles and held positions. in government such as the governor's expert staff. At the end of the event, souvenirs in the form of trash bins and certificates of appreciation were handed over to the manager of the tourist attraction, as well as the Secretary of the Gianyar Regency Tourism Office. (dk)