Public Lecture of Communication Studies Study Program: The digital era and the Indonesian Creative Industry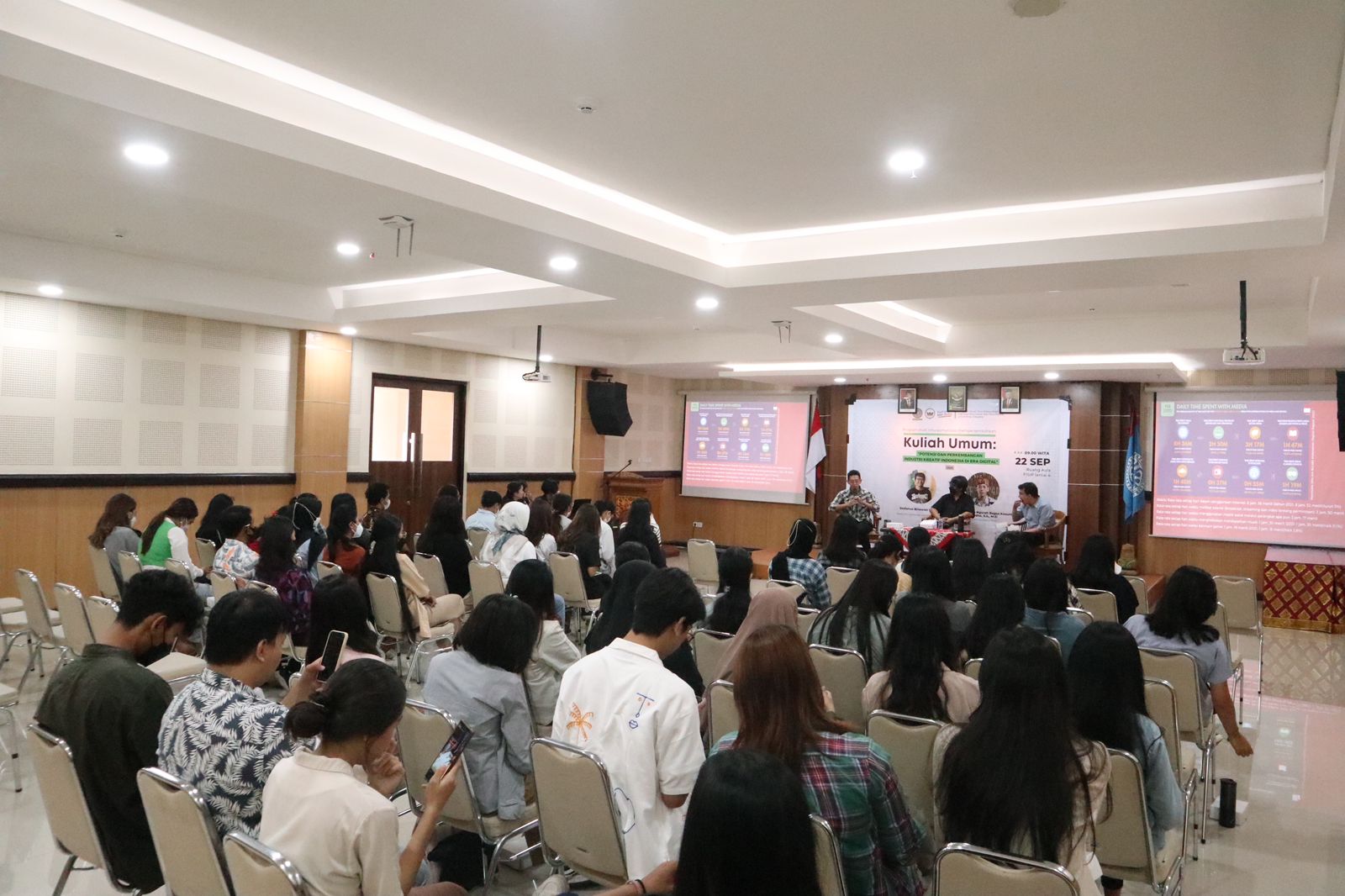 The Unud Communication Studies Program held a public lecture on Thursday (22/9) at the FISIP Building Hall, Sudirman Campus, Denpasar. With the theme "The Potential and Development of Indonesia's Creative Industries in the Digital Era", which was opened with remarks by the Coordinator of the Communication Studies Program, I Dewa Ayu Sugiarica Joni, S.Sos., MA. The presentation of the material was moderated by Lecturer of the Communication Studies Program, Calvin Damasemil S.I.Kom., M.Si, and invited two presenters namely Stefanus Binawan Utama, a visual artist, co-founder of Uratnadi VFX Studio, also a lecturer at a university in Jakarta and the second speaker namely, Anak Agung Ngurah Bagus Kesuma Yudha S.S., M.Si, a lecturer, director, and musician. This public lecture was attended by communication students batch 2020 and 2021.
The material presented by the first speaker on The Evolution of Visual Industry discusses the creative industry in the field of communication and information which includes advertising or advertising. The presenters also shared their experiences in the field of advertising, the use of visual effects in advertising, and explained about new media or new media that are developing in line with the development of the current digital era, such as ambient media, which is an advertising product that uses non-traditional or alternative media. which steals attention but does not interfere with activities. "With the digital era, the use of visual effects makes the 'impossible' possible," said Stefanus.
The second speaker brought material on "Making Film in Bali", in this material the discussion was more directed to the creative industry in the field of film and specifically in the Bali area. In this material, it is explained about terms in the world of cinema, types of films, and so on. "In this era, the number of gadgets in the world has exceeded the number of people and the average use of gadgets is 8 hours per day. This means that currently there is no limit or minimum limit and an increasingly wider network, and makes this a potential for filmmakers," said Yudha. The digital era makes it easy for movie lovers to access their favorite movies just by using a gadget.