Student Admissions from the Faculty of Engineering in the Independent Study Program, Merdeka Campus, Building a Thematic Community Service Village for Period I, Udayana University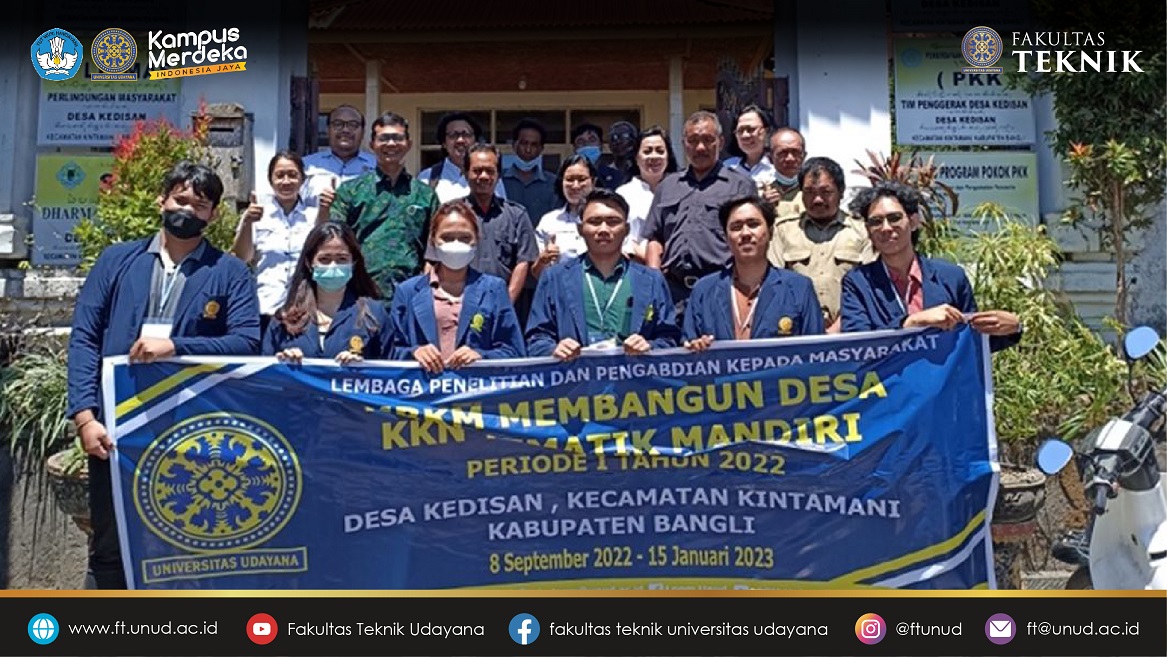 On Monday, September 12, 2022, there was an acceptance activity for the Faculty of Engineering, University of Udayana at the Merdeka Learning Program Independent Campus Building a Period I Thematic Community Service Program. The Independent Learning Campus Independent Program Building a Village KKNT is an Independent Independent Learning Campus program which was held for the first time for the first time by the Institute for Research and Community Service at Udayana University. Student admission activities were carried out in three villages in Kintamani District, Bangli Regency, namely Batur Tengah Village, Kedisan Village and Buahan Village. The location chosen is a directive from the Department of Public Works for Housing and Settlement Spatial Planning, Bangli Regency, as an agency that collaborates with the Research and Community Service Institute of Udayana University.
The total number of students from the Faculty of Engineering who were accepted as KKNT participants were 16 students, consisting of 13 students of Environmental Engineering Study Program, 2 students of Civil Engineering, and 1 student of Information Technology. A total of 15 students were divided into 3 groups for the implementation of activities in 3 villages, namely 4-6 students per group. The activity will be carried out in the Odd Semester of 2022 – 2023 for approximately 4 months, from September to December. Later, students will be entitled to a course conversion of 20 credits after completing the Merdeka Learning program, Merdeka Campus Building a KKNT Village.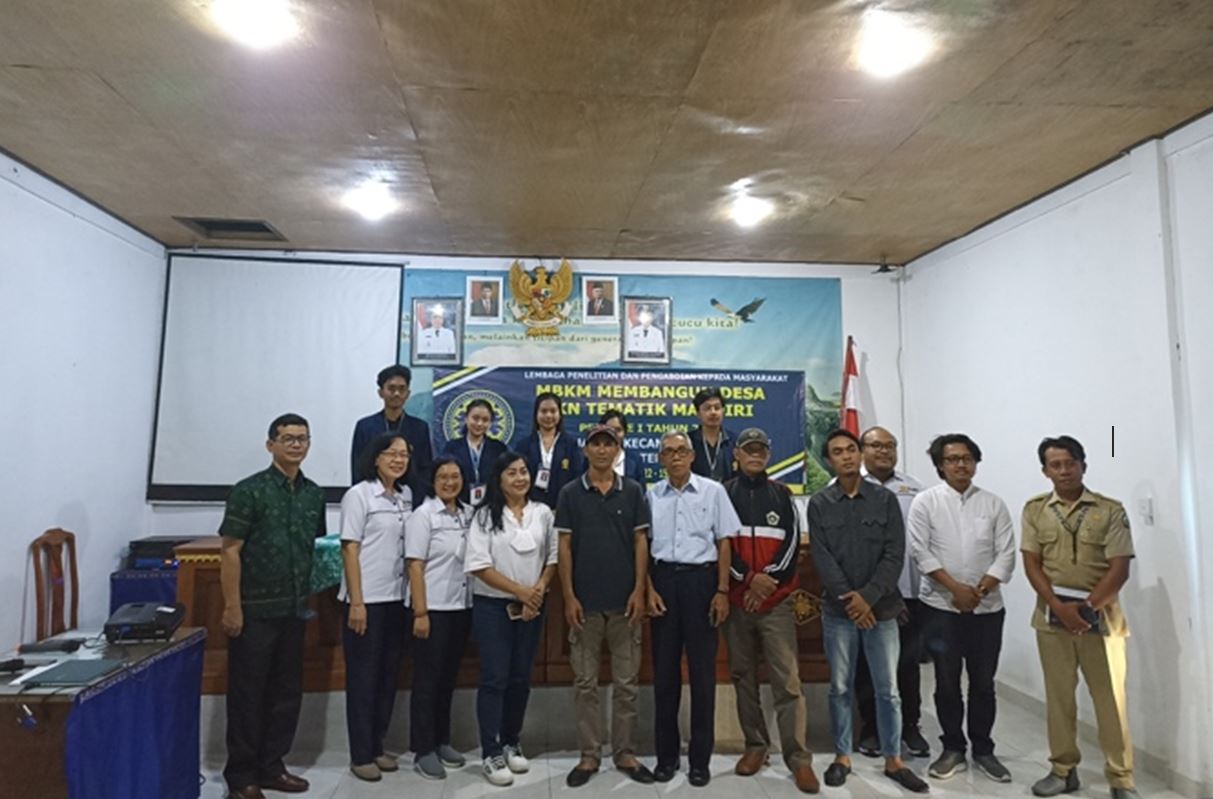 Opening and acceptance of students is carried out in each village office. Present on this occasion, the Village Head/Perbekel in each village, representatives from the Village Supervisory Board, an extension of the Public Works Department of Housing and Settlement Spatial Planning Bangli Regency as Field Supervisors, village officials and leaders, Field Supervisors from Lecturers Study Program and the Research and Community Service. Activities in each village began with an opening delivered by the Village Head and Study Program Lecturers as Field Supervisors. After the opening, the KKNT coordinator conveys the work program that will be carried out during the KKNT implementation period.
Coordinator of Environmental Engineering Study Program, Mrs. Ir. Kadek Diana Harmayani, ST, MT, Ph.D. said that this KKNT activity was different from the PPM KKN activities that had previously been carried out by Udayana University, where in this KKNT students were required to carry out activities in accordance with the fields of knowledge studied on campus, of course adjusting to village directions and programs. For example, students of Environmental Engineering Study Program must carry out activities related to the field of Environmental Engineering covering 3 main topics, namely the Village Drinking Water Supply System, Wastewater and Solid Waste Management System.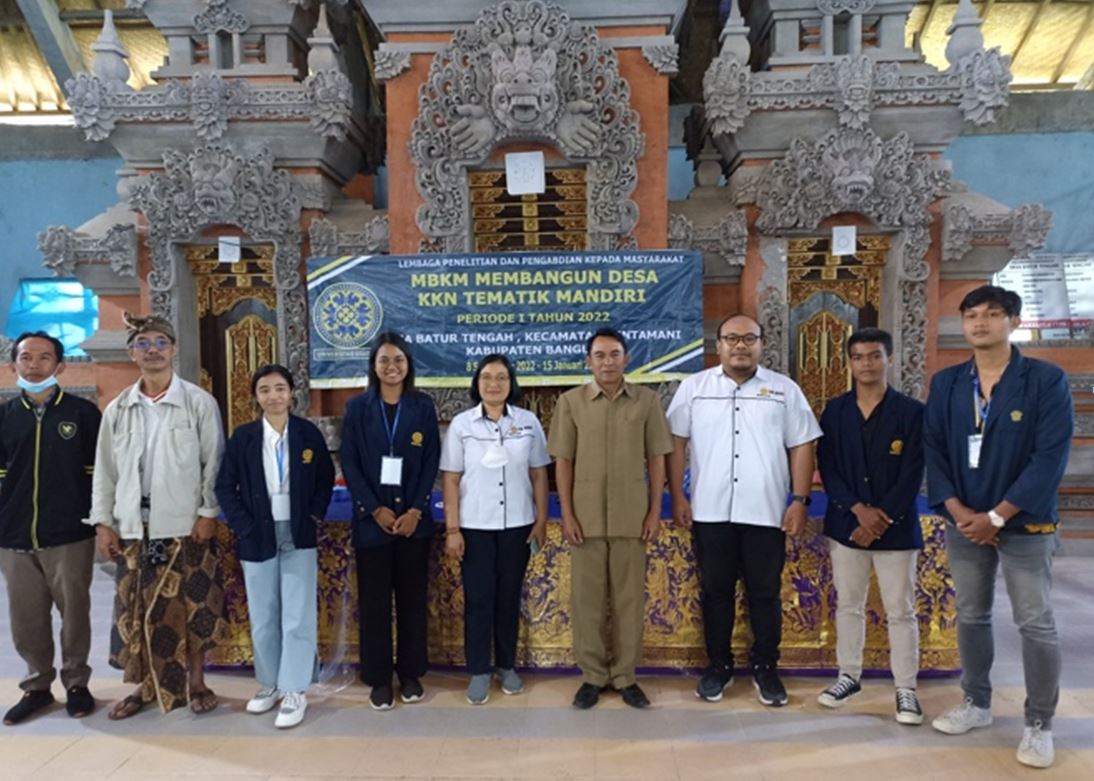 The Field Supervisor in Batur Tengah Village who is an extension of the Department of Public Works, Spatial Planning, Housing and Settlement Areas of Bangli Regency, Mr. Komang Karyana, expressed his hope for the students participating in the Period I KKNT to later be able to contribute in preparing technical plans related to the Water Supply System. Drinking Village, Waste Water Management and waste management in the village, because it will really help the village in the realization stage of the program in the future.
Village parties, both in Batur Tengah Village, Kedisan Village, and Buahan Village are very supportive of this KKNT program, considering that currently environmental problems are getting special attention in the village. In addition, through the implementation of this KKNT, students can run the Merdeka Learning program on the Independent Campus through learning to directly apply the knowledge they have learned on campus in solving problems related to the fields of knowledge mastered in the village area.