Postgraduate Udayana together with BAPPEDA Jembrana Increase regional innovation by Disseminating Research Results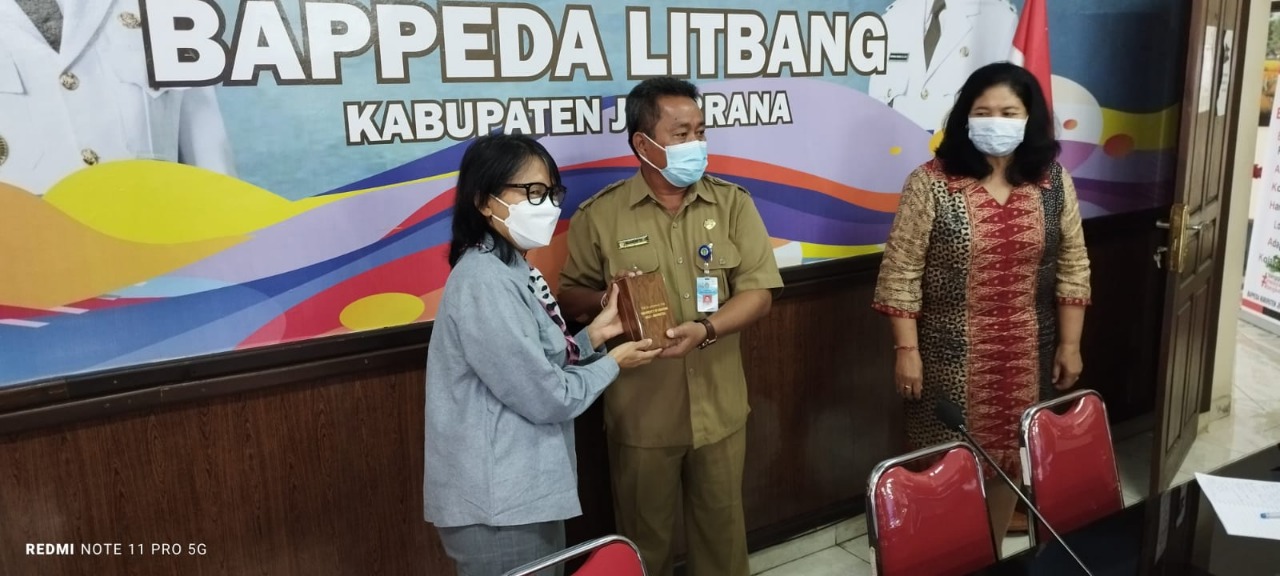 Monday, August 22, 2022, the Postgraduate of Udayana University in collaboration with the Research and Development Agency of Jembrana Regency held a Dissemination Event for the 2022 Research Results at the Office of the Research and Development Bappeda of Jembrana Regency. The dissemination event was attended by the Jembrana Regency Bappeda, relevant Regency Apparatus Work Units (SKPK) in Jembrana Regency, and Heads of Sub-Districts throughout Jembrana Regency.
Head of Bappeda Jembrana Regency I Made Sudantra, S.E., M.Si in his speech said "Research and development has an important function in development, especially in the planning and evaluation stages of development results".
"The supporting factor in increasing regional innovation is the growth and development of research and development. With the increasing number of research and development results, various dissemination media are needed to disseminate them to all stakeholders for further development". he added
Director of Postgraduate Prof. Ir. Linawati, M.Eng.Sc.,Ph.D said "Thank you for facilitating and accepting the Postgraduate team in Research Dissemination activities. Research is the starting point in the preparation of development policies and regulations that require research and development is an activity in order to find the basis of truth, both epistemological as well as empirical in nature. The existence of research and development can help reveal the symptoms of a situation condition, help solve all developing problems, and help provide appropriate solutions, by collecting, processing, and analyzing data in a representative, objective, valid, and reliable."
The dissemination activity presented six study results, namely,
1. Plastic Waste Pollution: Data and Environmental Impact by Gede Hendrawan, P.hD
2. Character of Vegetation, Macrozoobenthos and Carbon Diversity in Sediments in Mangrove Areas of Nusa Lembongan and Perancak Astuari by I Made Abdi Janaguna
3. Effective Management Strategy of Aquatic Conservation Areas in Utilizing Coral Reef Ecosystems by I Dewa Kadek Wira Sanjaya
4. Waste Treatment by Prof. Wayan Budiarsa Suyasa
5. Study on the Utilization of Banana Waste as Biochar to Reduce Soil Pollutants and Increase Agricultural Productivity by Ni Made Wedayani
6. Biomass and Carbon Storage in the Seagrass Ecosystem in Nusa Lembongan by Ida Ayu Indira Dwikasari
The Dissemination of Research Results was closed with the socialization of study programs and information on plans for the development of new study programs at the Unud Postgraduate Program by the Deputy Director of General Affairs and Postgraduate Cooperation of Unud, Dr. I Gusti Ayu Putri Kartika, SH., MH.