Project Based Learning from Unpad, Presents Udayana Political Science Lecturer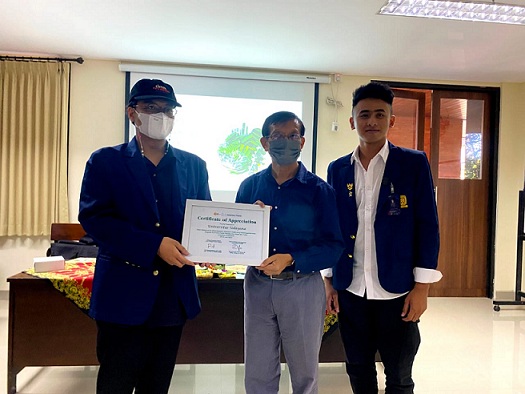 Denpasar, Political Science Udayana University Welcomes the arrival of Political Science from Padjadjaran University in the context of comparative study activities and Project Based Learning S1 Political Science Study Program, Faculty of Social and Political Sciences, Padjadjaran University, which is located in the FISIP Building, Udayana University. The activity in the form of a public lecture focused on discussing the Politics of Traditional Villages. (21/06/2022)
Traditional Villages have a vital role in people's lives, especially in Bali. So, not a few researchers have researched about Traditional Villages in Bali and their relation in various scientific fields and viewpoints in seeing the phenomena that occur in the field, one of which is from the government's point of view. In this regard, this public lecture discussed "Reinventing The Customary Village In Bali: Governing as a Perspective" which was presented by Drs. I Ketut Putra Erawan, M.A., Ph.D., as Lecturer of Political Science at Udayana University.
In his presentation, Ketut Putra Erawan divided his material into 8 sections, which discussed in detail about the empowerment of Traditional Villages, elements of government as a perspective in viewing Traditional Villages, and so on.
The enthusiasm of the participants towards the Political Traditional Village material was shown by their seriousness in attending the class and questions regarding the relevance of the Traditional Village to vote gains, the relevance of classes in the discussion of the Traditional Village, and the ideal form of the Traditional Village that should have been proposed, not only by students, but also by students. also lecturer.
This activity was attended by representatives from Padjadjaran University, Dr. Ratnia Solihah, S.IP., M.Sc., as the Coordinator of Political Science, together with a total of 53 lecturers and students of Political Science. Also present, the Coordinator of the Political Science Study Program at Udayana University, Dr. Tedi Erviantono, S.IP. M.Sc., together with lecturers of Political Science, Udayana University. All activities that take place face-to-face comply with health protocols.