THE EXPERT OF SIBER INDONESIA PARTICIPATED IN NATIONAL ALSA SEMUNAS IN UDAYANA UNIVERSITY
Posted by Rektorat
06 Maret 2018
Pageviews 3603 times
The Photo Session: the Speakers, Dean of Faculty of Law, the Denpasar Government Representative, and All Invitated Parties at the Opening of ALSA Semunas
Denpasar – Tuesday (06/03), In 2018, ALSA (Asian Law Student's Association) Chapter Udayana University got the trust from ALSA National Chapter Indonesia to be the host of the 25th Semunas. This trust earned to make the annual event by ALSA Indonesia to be held in Bali for the first time. Semunas series of events was held from March 3rd, 2018 to March 6th, 2018. This year, Semunas series of activities was not only followed by some of Indonesia's top universities but also attended by the representatives of ALSA International. In the series of activities as a whole, the organizing committee of ALSA Udayana University as the organizing committee raised the theme of the regional nuance and culture of Bali, which was "Paras-Paros Sarpananya, Salunglung Sabayantaka". This theme was a society concept in Bali that always uphold the value of unity and brotherhood. ​
The series of activities in ALSA National Semunas at Udayana University began with the opening and National Seminar which were held at Widya Sabha Building Udayana University, Bukit Jimbaran. At the opening as well as the national seminar started at 10:00 am on Sunday, March, 3rd with the theme "Strategy Building Defense and National Security From Cyber Attack Threat in Post-Truth Era". This event presented the experts who have high competence with issues that develop in the society today. The speakers in this national seminar were DR. Edmon Makarim, S.Kom., SH., LL.M (Telematics Law Expert), I Made Wiryana, Ssi., S.Kom., M.Sc (Siber Paspampres of Republic of Indonesia), Siber experts from Siber and Sandi Negara (BSSN), and Dea Rangga Kuncoro (Content Creator).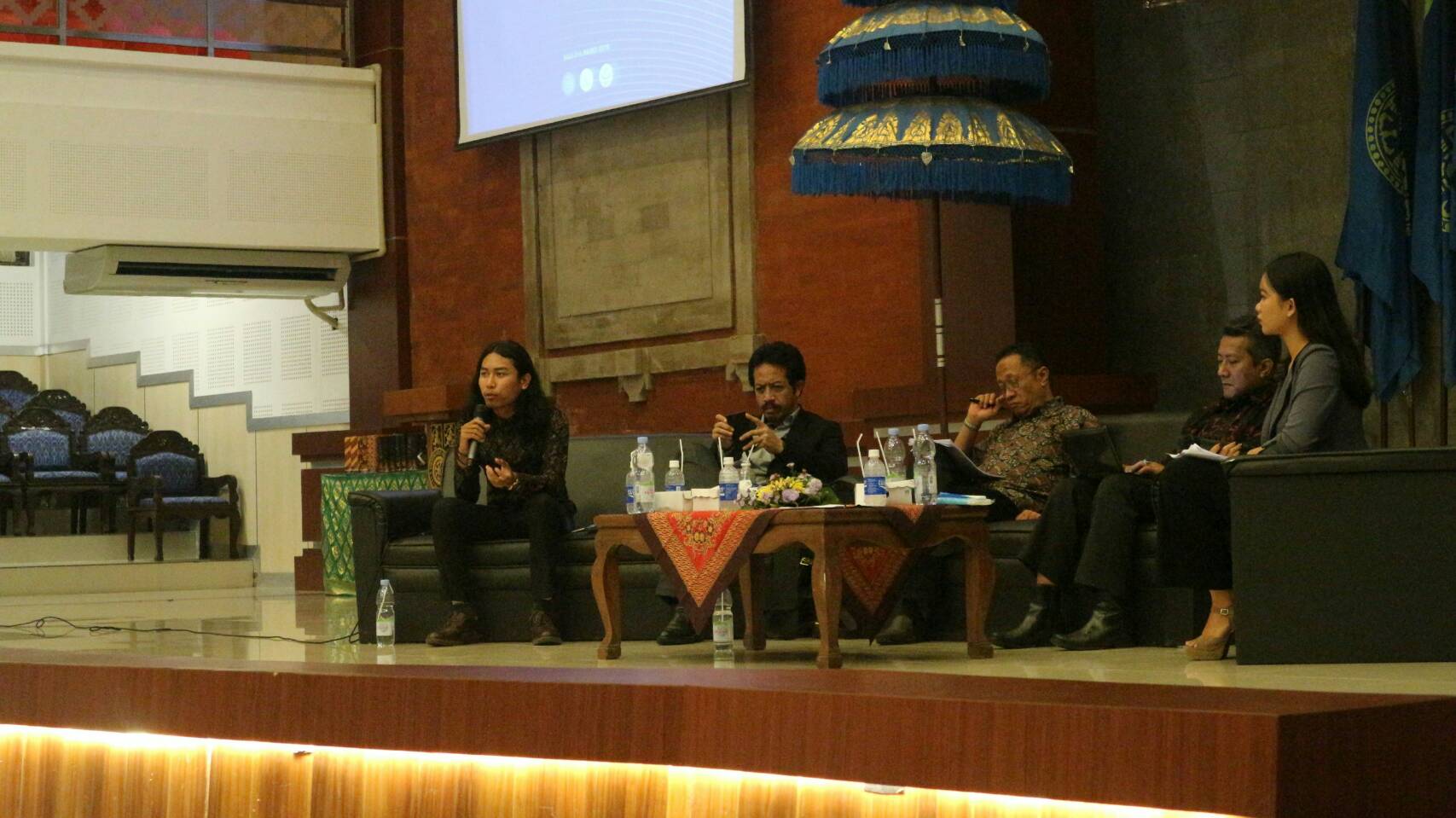 The National Seminar
On the second day after the opening of ALSA Semunas, the series of activities continued with the holding of a national deliberation held at Hotel Neo Denpasar. The deliberation was attended by all participants to discuss the accountability report of the National Board of ALSA Indonesia's board last year and the election of the new ALSA Indonesia President for one future period.
On the last day, the event was closed with City Trip to Garuda Wisnu Kencana. This City Trip activity was intended as a promotional event of Balinese culture implemented by the organizing committee to participants who come from national and international universities.
In the interview session with the committee chairman, Rit Meidyana, who is an Faculty of Law students Udayana University, expected that this activity can show the existence of Udayana University in national and international. In addition, specifically for the implementation of national seminars on the sidelines of this series of opportunities, was expected to provide benefits and knowledge to young people in addressing issues that are developing in society and increasingly wise using technology in this post-truth era. With the implementation of the activities from ALSA National trust, it was expected to be the spirit generator of ALSA Udayana University in creating, achieving and benefiting the society. (pratama)