MAKING SINERGI INSTITUTE INSTITUTIONS, LPJK AND MINISTRY OF PUPR UNUD TO UNDER THE CONSTRUCTION SEMINAR
05 Maret 2018
Pageviews 4287 times
Denpasar - The Construction Services Development Agency (LPJK) of Bali Province in collaboration with Technology Application Development Center of the Ministry of PUPR and Udayana University held a Construction Seminar with the theme "Implementation of Long Long Bridge Technology on West Tanjung Lingkar Ring Road" on Thursday (01/03/2018 ) in the Hall Room of Postgraduate Building Unud Kampus Sudirman Denpasar. The seminar was attended by approximately 200 participants from government, universities, business entities and students associations.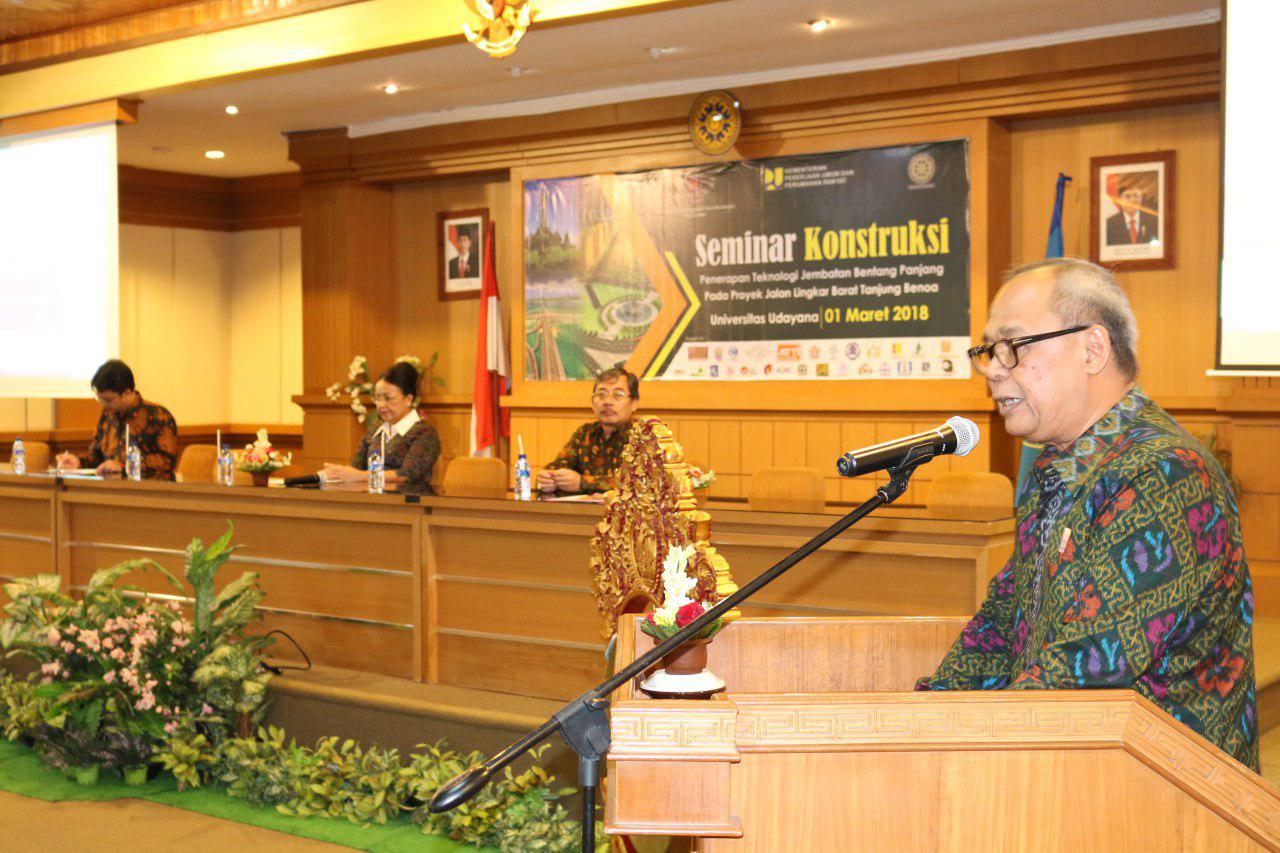 (I Ketut Budiarsa, Chair of Construction Seminar under the theme "The Application of Long Long Bridge Technology on Tanjung Benoa West Ring Road")
The organizer, which is chaired by I Ketut Budiarsa conveyed the implementation of this seminar is supported by the Center of Application of Construction Technology by bringing in sources who have had a qualified experience in the field of resource persons involved in the work of Simpang Semanggi. In the seminar also presented material about the use of Building Information Modeling application.
Chairman LPJK Bali Province, Ir. Ida Bagus Nyoman Sudewa added that the topic raised is the result of synergy with the Balai Penerapan Teknologi Konstruksi that supports LPJK in conveying new ideas and construction technology activities that have not been much and may be needed by the public to anticipate faster accessibility, safer and more comfortable. As one of the current tourism destination, congestion in Bali becomes one of the problems that must be overcome. Therefore through this seminar is expected to emerge the ideas of infrastructure development to overcome the existing problems.
The Head of the Implementation Institute for Construction Technology, Cakra Nagara, ST., MT., ME hopes the seminar can provide benefits to the community and contribute to development in good construction to improve services. This is one of the duties of Balai to collect the contemporary technology that will be disseminated to the public. For that need the support of appropriate technology with community empowerment in addition to technology development.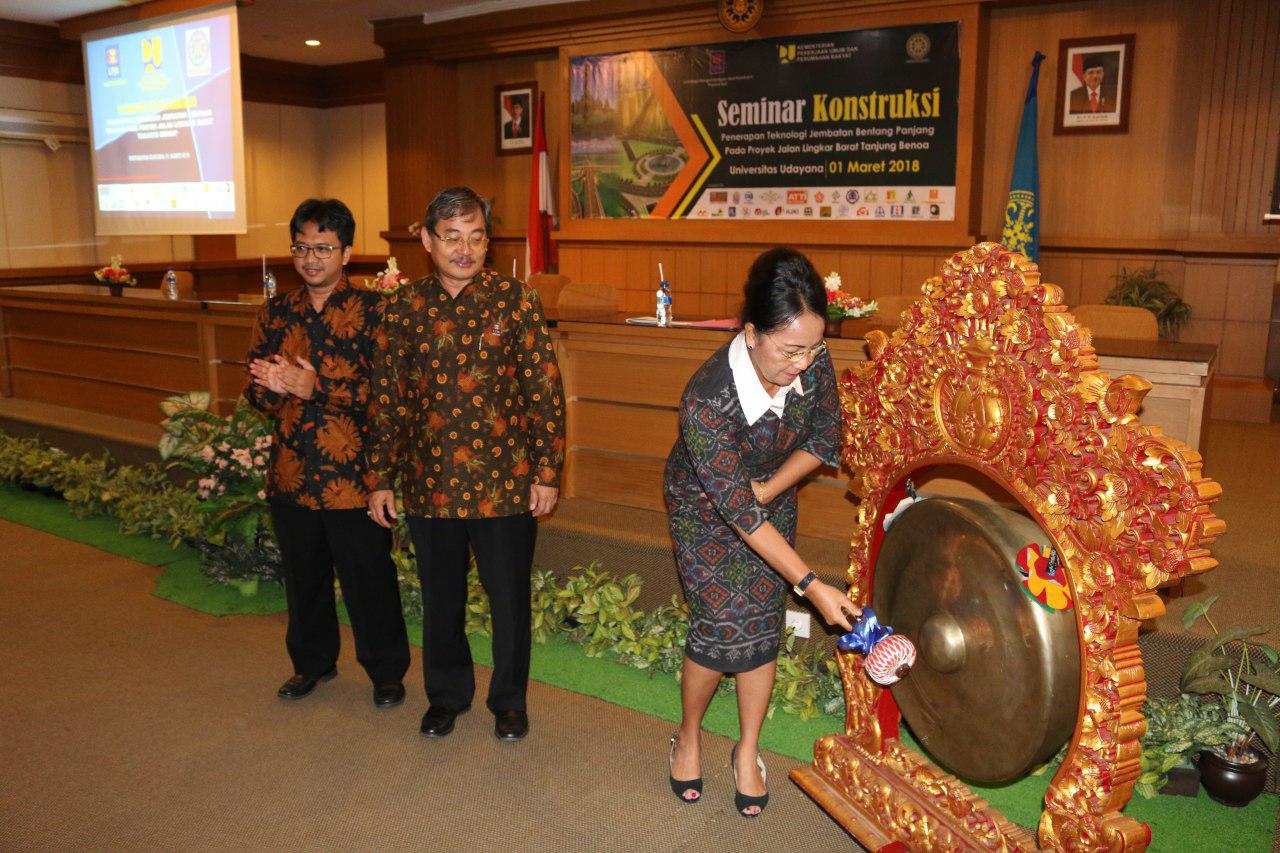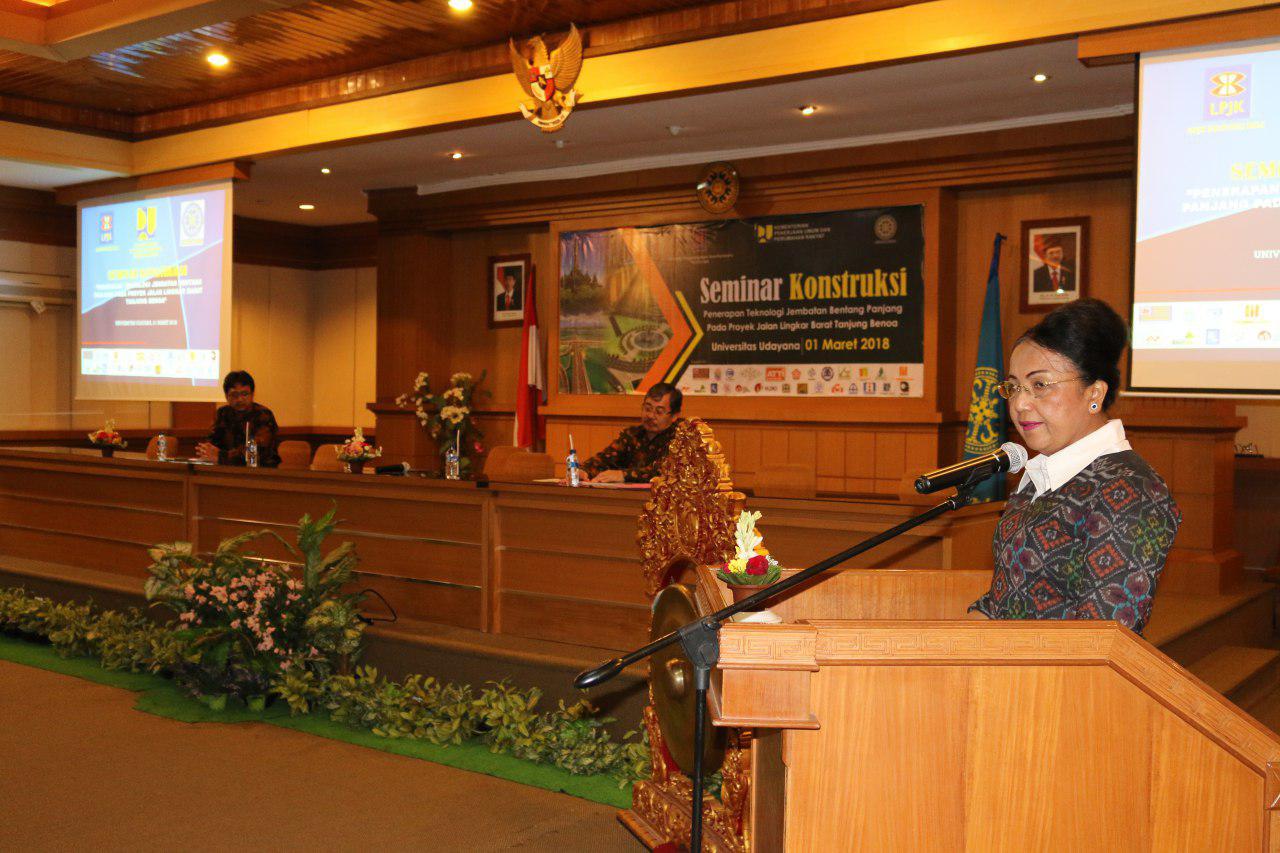 (Rector of Unud, Prof. Dr. dr. A.A. Raka Sudewi, Sp.S (K) when opening the event and giving remarks to the Construction Seminar)
Rector of Unud, Prof. Dr. dr. A A. Raka Sudewi, Sp.S (K) in his speech convey the cooperation of this seminar seminar is a manifestation of the synergy of the role and function of each institution in the devotion to the community to open the insight and open the understanding of the application of high technology in realizing infrastructure especially Application of Bridge Technology Landscape . The Rector hopes that this Construction Seminar can provide benefits in improving the insight and understanding of stakeholders in Bali, ranging from aspects of planning, implementation aspects especially the application of long-range bridge technology, construction / project management aspects as well as a very important and a concern is the environmental aspect to realize Comfort Built Environment and Built Environment. (HM)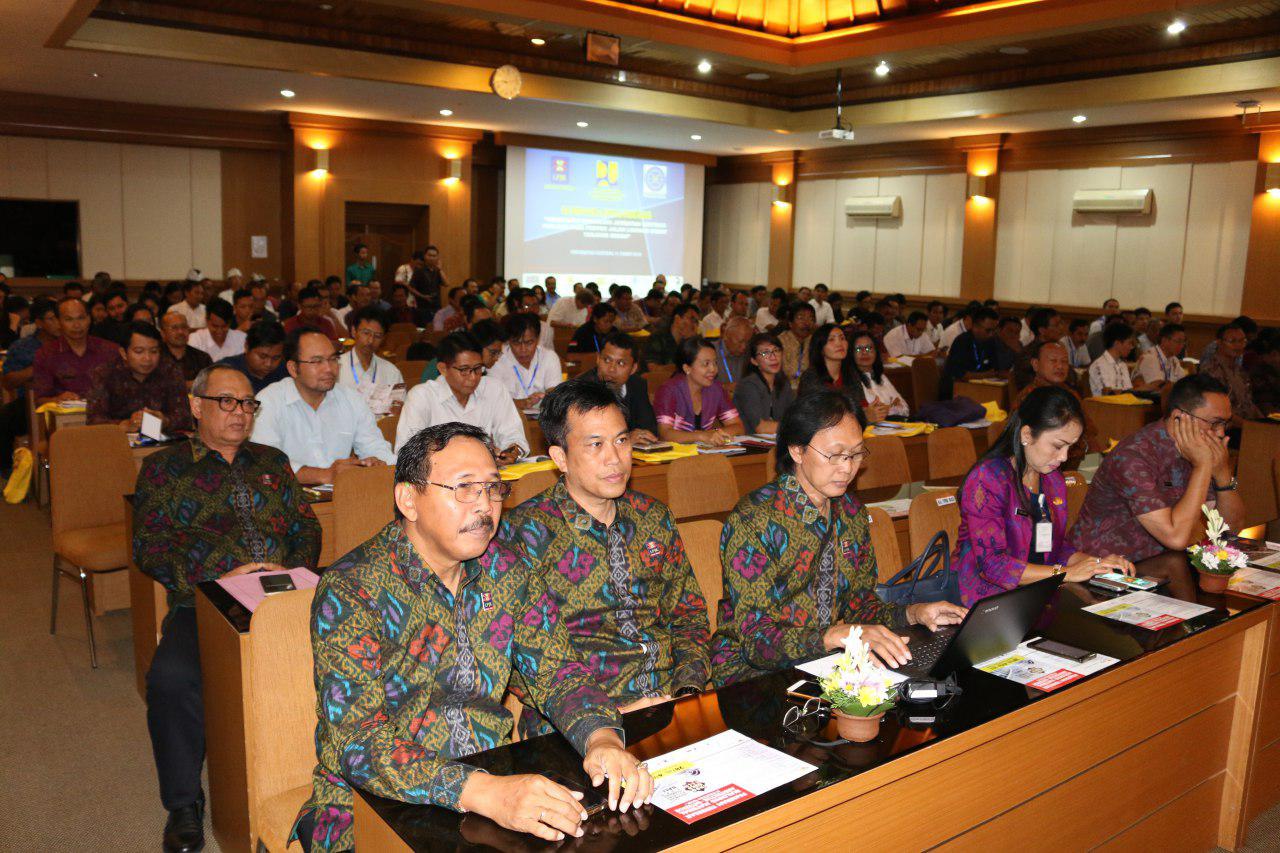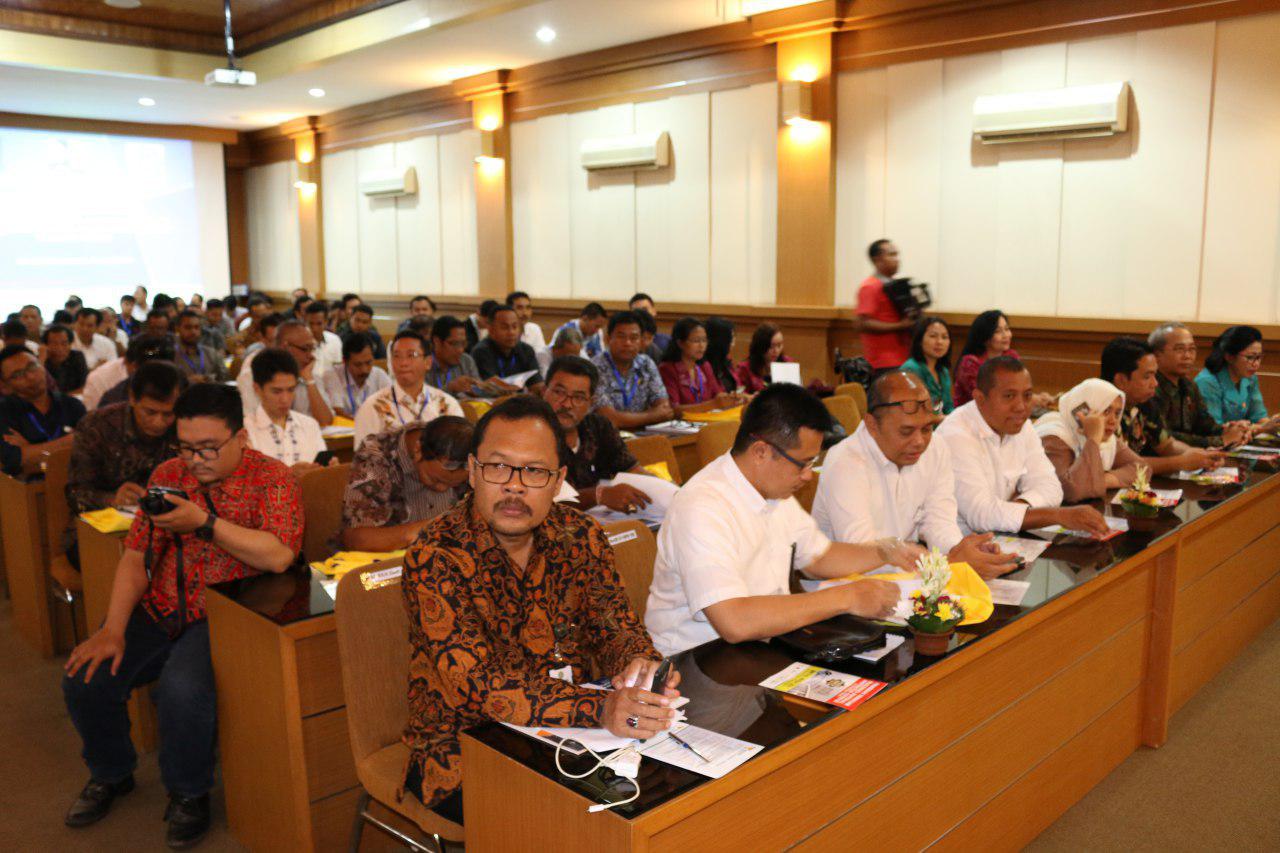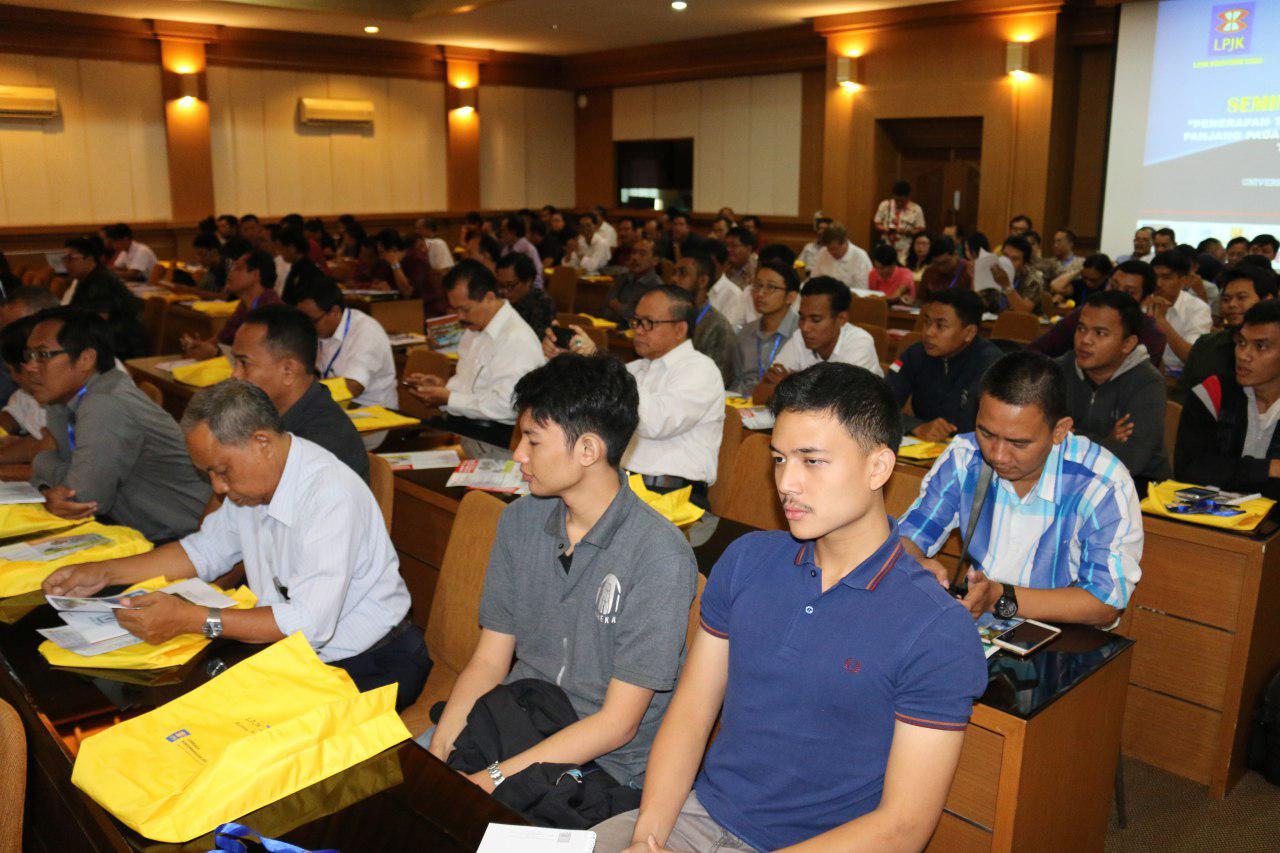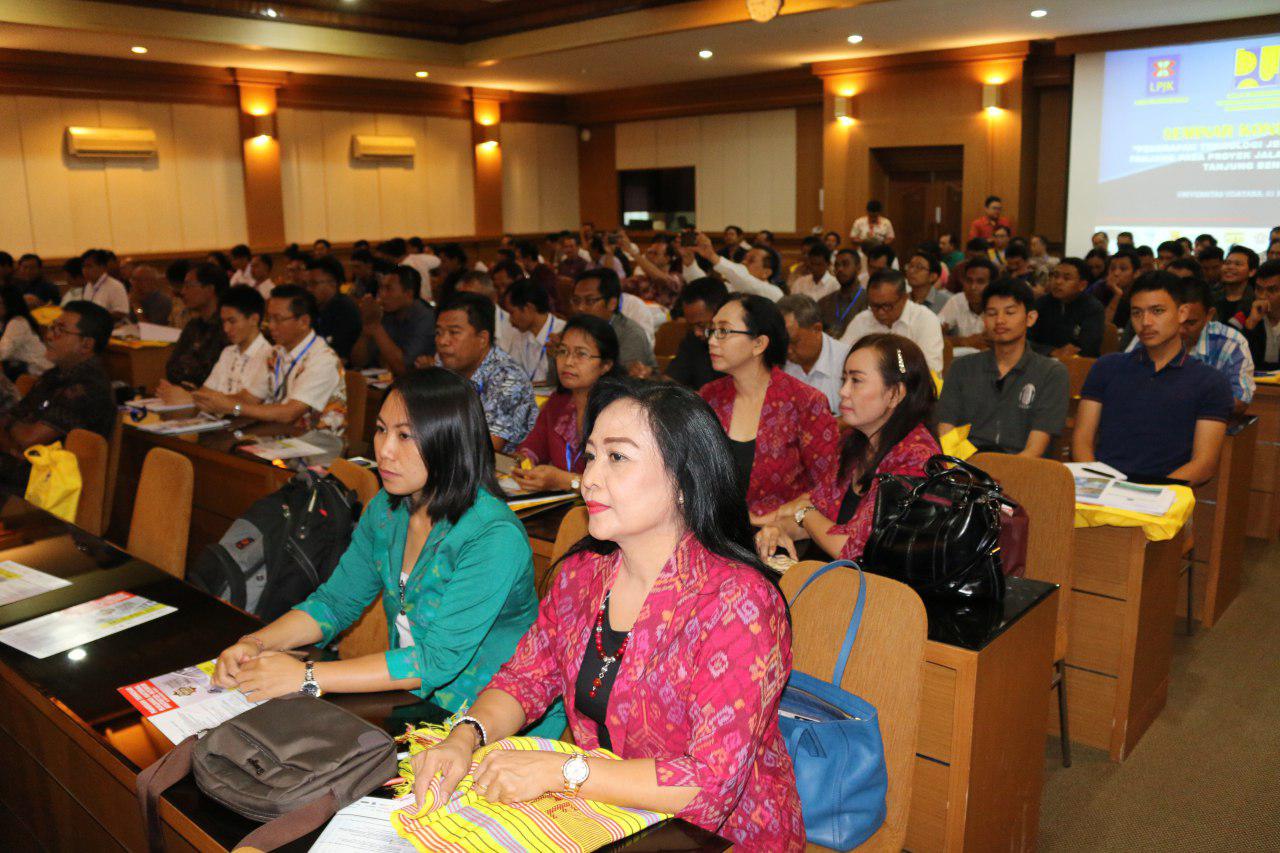 (The seminar was attended by elements of government, universities, associations of business entities and students)