Student KKN PPM 2017 Provided Insight Nationality and Drugs Dangers
15 Juni 2017
Pageviews 2282 times
Bukit Jimbaran (14/06/2017) - Institute of Research and Community Service (LPPM) Unud held the activities of "General Briefing KKN PPM and KKN Thematic Mental Revolution Period XV Year 2017 at Auditorium Building Widya Sabha Bukit Jimbaran Campus. This event presented speakers from the Department of Community Empowerment and Village Government, Representative Office of the Ministry of Defense of Bali Province and BNN Province of Bali. At this time KKN debriefing was followed by 2,913 students from 13 faculties which will be distributed to 127 villages in Bali Province.
Chairman of LPPM Unud, Prof. Dr. Ir. I Nyoman Gde Antara, M. Eng in his report conveyed before plunging into the village students are given debriefing consisting of 2 kinds of material those are general and special. The general material contains about the things related to the students such as the value of nationality, the dangers of drugs and the empowerment of village communities. For special materials related to the process of corruption, collusion and nepotism (KKN) related to programming, monitoring and assessment. Further Prof. Nyoman Gde Antara said that KKN release will be held on 22 July 2017 and will return to campus on August 28, 2017. With this debriefing, students are expected to be able to assist in running their programs accompanied by field supervisor. After debriefing KKN will be conducted exam and who have not passed in order to pursue the value through the completion of targets in the field. Before the release of students participating KKN, it accompanied by field supervisors and will meet the village and community tools to arrange the program and verified to be assessed feasibility. Prof. Nyoman Gde Antara also hopes the three resource persons can provide materials for KKN run better than ever.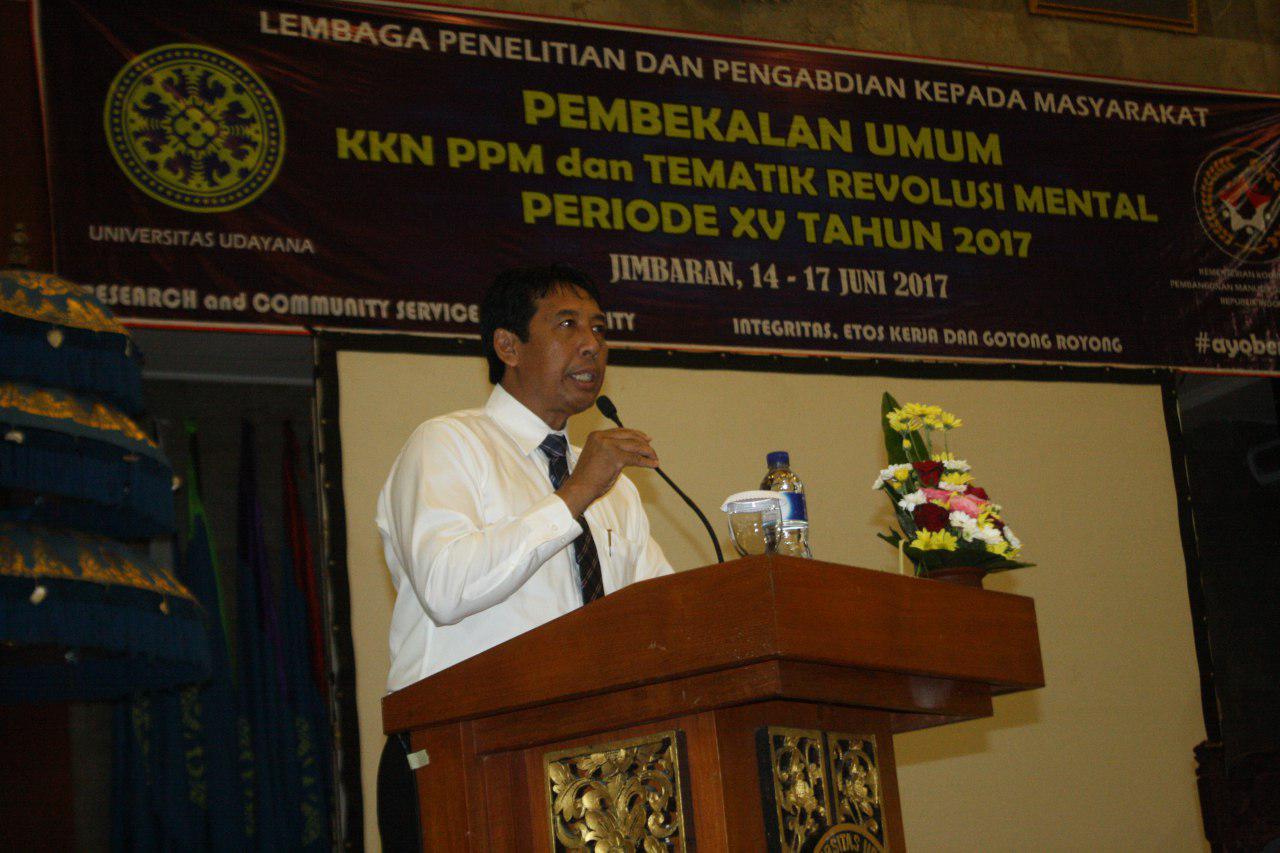 (The head of LPPM UNUD, Prof. Dr. Ir. I Nyoman Gde Antara, M.Eng when delivered his report)
Rector of Unud, Prof. Ketut Suastika in his direction to the participants of debriefing said that KKN is part of education and included in the curriculum and become an important part of educational process because it is implemented in society. The great benefits of KKN are gaining experience of interacting directly with the community and understanding the problems that occur in community life. Further Prof. Suastika conveyed the time of KKN should be utilized well in order to get maximum experience. Lately the nation faces a big problem, especially the problem of nationalism and radicalism. We can not ignore the situation of the nation now, for that young generation is expected to become a human resource that plays a role for the nation. The students to become pioneers who will be able to give examples of how this nation should be fought for in diversity. Through the three speakers, the Rector hopes to provide insight to the students related to community life.
In the briefing this time the speakers from the Provincial PMPD Bali, I Made Wiryata conveyed material about Village Community Empowerment. Executive Representative of the Main Duty Office of the Ministry of Defense of the Province of Bali, Col. Inf. Ketut Budiastawa delivered materials on Nationality and Nationalism Insight and BNN Representative of Bali Province, I Gede Erwan Supriantana conveyed material about Drugs Dangers. (PR)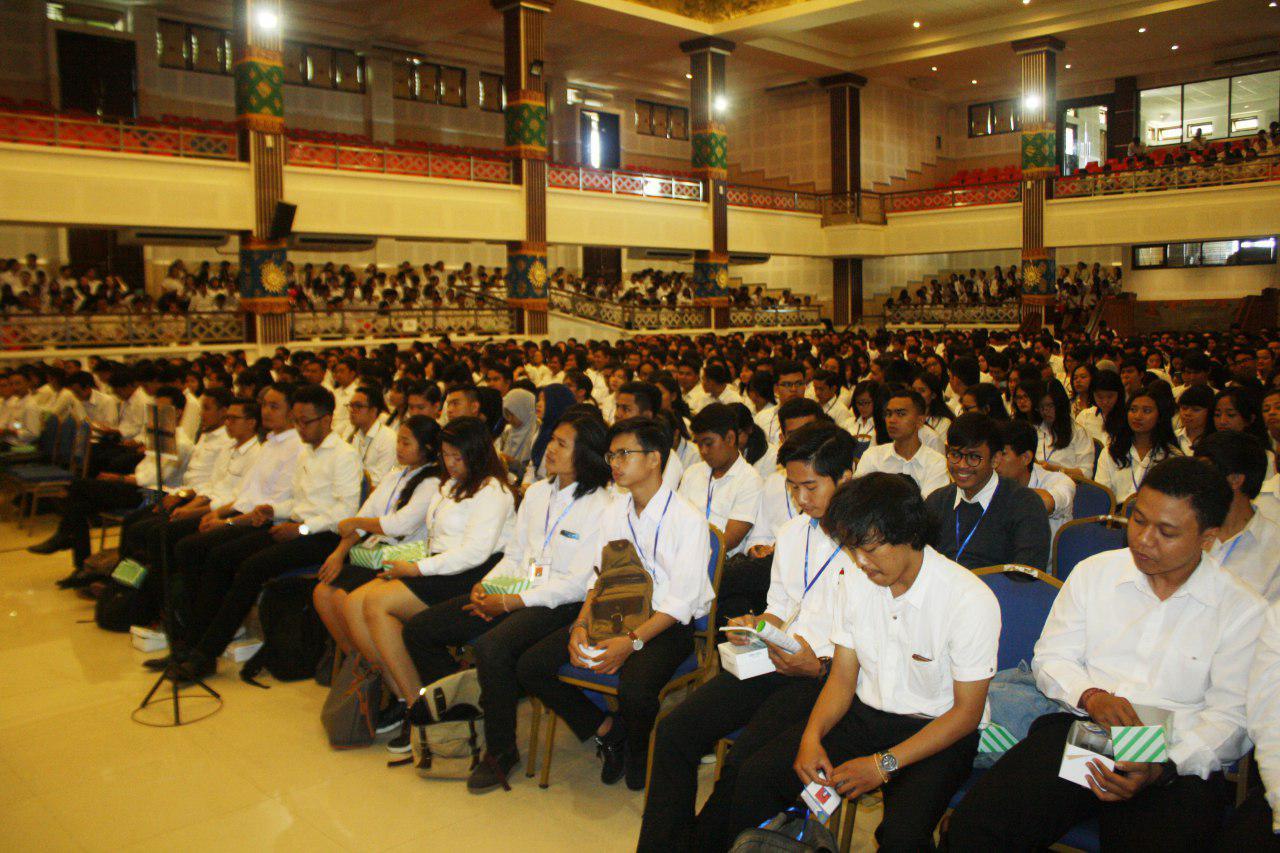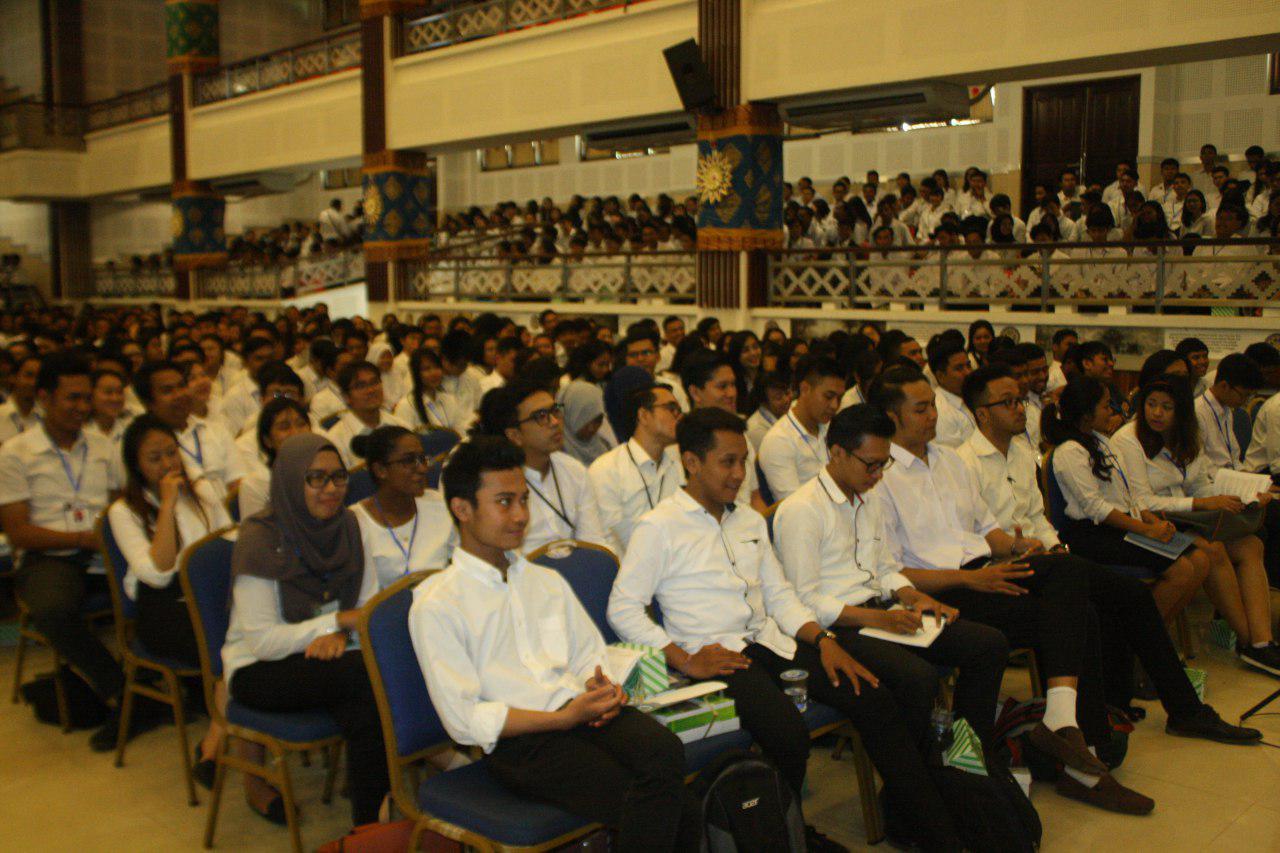 (The student as a participants of KKN Debriefing 2017)