Before The Historical Sites Trip, KEMAS Held an Annual Briefing for the Freshmen.
Posted by Rektorat
15 Februari 2019
Pageviews 1494 times
Dra. A.A Ayu Rai Wahyuni, M.Si. Presented her materials at the Historical sites trip briefing
Denpasar - Friday (15/02), the student council of the Department of Ancient History, Faculty of Cultural Studies held The Historical Sites Trip Briefing at the Prijono room, on the 3rd floor of Poerbatjaraka building, The Faculty of Cultural Studies, Udayana University.
This is an annual event held by the Student Council of The Department of Ancient History, called the Family of the Department of Ancient History's students (KEMAS). This event was attended by the freshmen, in order to introduced them to the Bali historical sites.
Dani, the head of KEMAS (2018/2019) said that, this briefing inform them all important things to be known, before they (the freshmen) could visit all historical sites in Bali.
"This briefing is very important and all the freshmen need to get the information, before they get to visit the historical sites in Bali. Later they won't only visit the sites but also doing research and make the report of it. The purpose of this event also to brief them (the freshmen) to understand their job on sites without being awkward."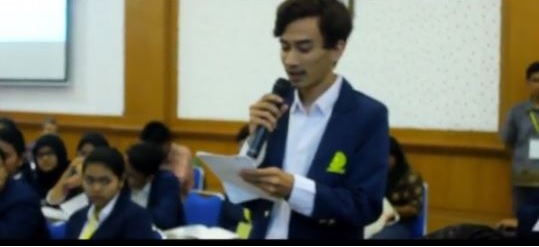 Freshmen's question on the Q and A Session
This year's theme of this event was "Introducing the Historical Site in Order to Stimulate the Future Bachelor's Critical Mind.". this event was attended by all the freshmen year 2018, the lecturers, and the speakers: Dra.A.A Ayu Rai Wahyuni, M.Si and Dr Ni Kadek Surpi, S.Pt,.M.Fil.H.
Both of the speaker's briefing materials was presented excellently and attracted the audience's interest. Dra. A. A Ayu Rai Wahyuni, M.Si talks about Das Pakerisan historical site, and Dr Ni Kadek Surpi, S.Pt,.M.Fil.H, talks about "How cool it is to be an ancient history researcher."
The event ran smoothly and the audiences excitedly asking the speakers to broaden their knowledge about the historical sites in Bali. After the briefing, they would visit the historical site in Gianyar district. KEMAS also work with BPCB Bali Nursa and the Bali Government Tourism Department in order to run the event smoothly. The historical site they would visit are Tirta Empul Temple, Mount Kawi, and Samuan Tiga Temple