Doctoral Program Academic Guidance Updating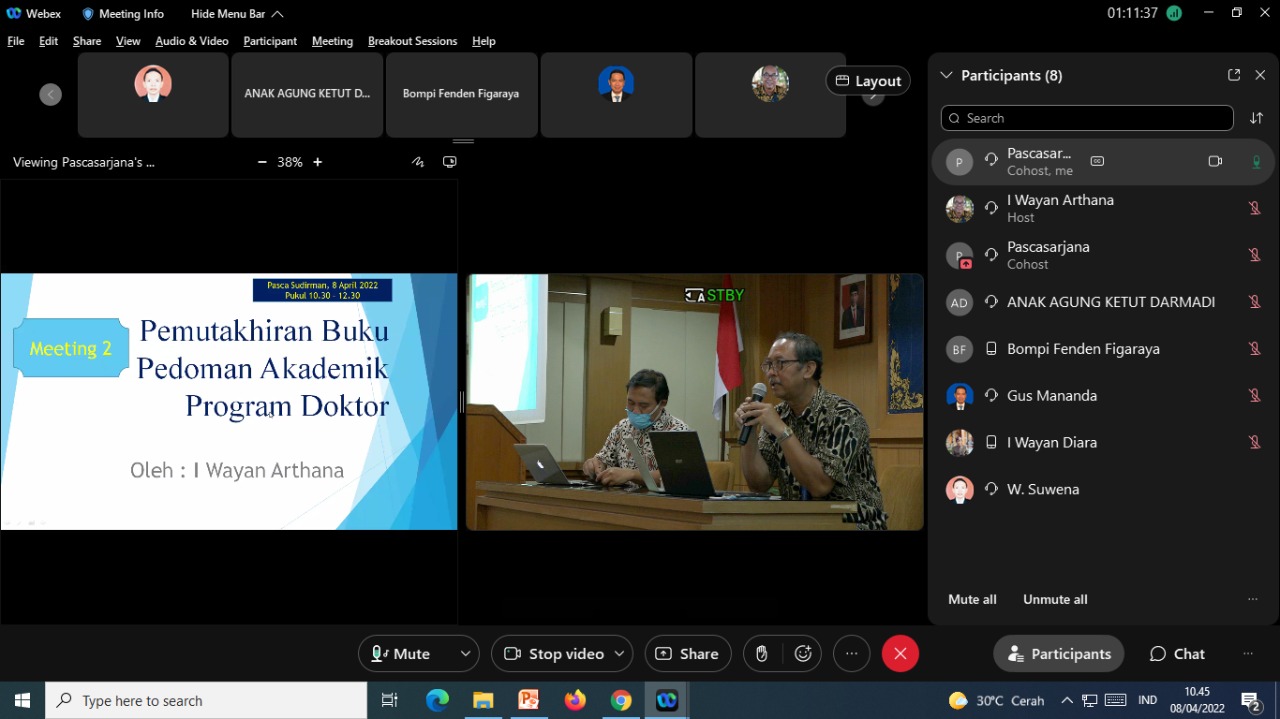 Udayana University Postgraduate held a meeting to update the Doctoral Program Academic Guidance.
The agenda was opened by the Director of Postgraduate Prof. Ir. Linawati, M.Eng.Sc., Ph.D., and led by Prof. Ir. I Wayan Arthana, M.S., Ph.D. as Chair of the meeting to update the Academic Guidelines for the Postgraduate Doctoral Program at Udayana University. This event was attended by the Coordinator of the Doctoral Study Program at Udayana University in a Hybrid manner.
"Improvement of the Doctoral Academic Guidelines aims to follow the development of current regulations in higher education," said the Head of the Team for Drafting Doctoral Academic Guidelines, Prof. Ir. I Wayan Arthana, M.S., Ph.D. Each study program is given the opportunity to submit problems encountered. Completion of academic guidelines will refer to the DIKTI guidelines. "Learning achievements of graduates, Final Projects, and Publications will be included in the doctoral academic guidelines," he explained.
Refinement of Doctoral Academic Guidelines to direct students who have a passion to become researchers and can be realized in the form of research activities at research institutes or study centers outside the study program. It is hoped that the quality of student research can be improved as well as student experience in large research projects that will strengthen the research talent pool topically. Students gain research competence through direct guidance by researchers at research institutes or study centers. In addition, research collaboration with students can support the accreditation process.
The main purpose of this event is to prepare the Doctoral Program Academic Guidelines, which are expected to be effective starting in 2022. Previously, the Postgraduate of Udayana University already had the 2020 Doctoral Program Academic Guidelines, which of course still needed adjustments to current conditions. Through this event, it is hoped that all proposals and suggestions for improvement can be accommodated based on the format or needs of the study program to make academic guidelines usable as soon as possible.