STUDENTS OF ENGINEERING FACULTY OF UDAYANA UNIVERSITY BUY 9 GOLD IN THE SWIMMING JOURNAL WITH THE GOVERNOR OF BALI'S CUP IN 2022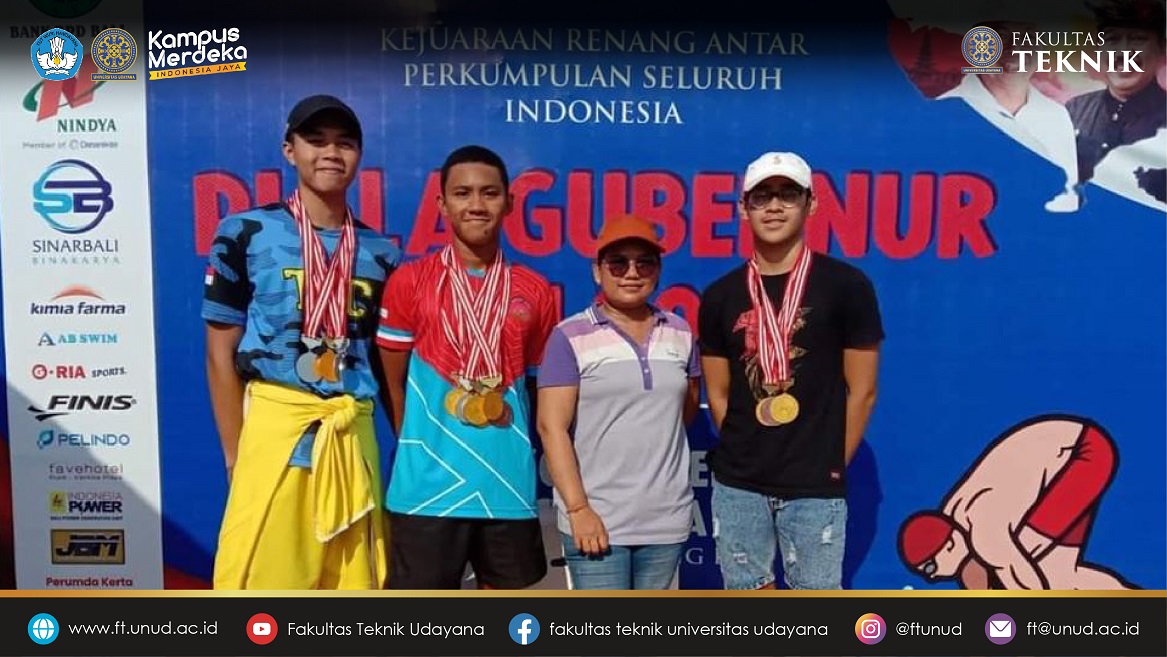 Information Technology students from the Faculty of Engineering, Udayana University succeeded in making achievements in the All-Indonesia Inter-Association Swimming Championship titled the 2022 Bali Governor's Cup, which was nationally held at the Nirmala Asri Swimming Stadium, Singaraja, Buleleng, Bali on 1 - 3 September 2022. On this occasion This achievement was achieved by I Putu Fardeen Bagas Mahottama who won 6 gold, 1 silver and 1 bronze and Satria Andrew Tan who won 3 gold 4 silver 2 bronze. In this competition, the athlete was accompanied by Mrs. Dr. Sumiyati, S.TP., M.P.
The All-Indonesian Inter-Association Swimming Championship held with the title Bali Governor's Cup 2022 is a national-level competition organized by the Bali Provincial Office of Youth and Sports Education and the Provincial Management of the All-Indonesian Swimming Association of Bali. The implementation of this activity is also a form of support for the aquatic sport of swimming in implementing Presidential Regulation No. 86 of 2021 concerning the Great Design of National Sports. This activity as a form of "sport tourism" which has a purpose, among others, is as a vehicle to measure and make achievements in the implementation of achievement development activities as a preparation to compete in activities at a higher level while simultaneously carrying out tourism activities on the island of Bali as a destination. international quality tourism.
The preparations have been made long before the race. "We practice swimming almost every day in the morning and evening to get the best results in this competition, besides that we have to be able to manage the time of other activities. We also have to arrange meals and rest periods to keep our bodies fit until the day of the match," said I Putu Fardeen Bagas Mahottama, who also received an award as the best athlete in the 16-18 year age group in this championship. This championship was participated by 433 athletes from 36 associations throughout Indonesia. Moreover, this is a national event so we have to adapt to the environment at the competition venue where the weather is very hot which can drain our stamina and focus to compete. At this event, we can meet acquaintances from various regions," said Satria Andrew Tan.