From Bali for Indonesia, Udayana Political Science and Bali Provincial KPU Conduct Joint Research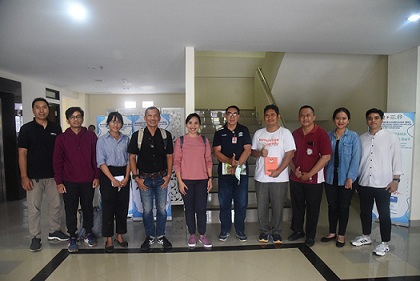 Denpasar, In order to prepare for the implementation of joint research activities and at the same time contribute to realizing a better general election in the future, the Political Science Study Program at Udayana University together with the General Election Commission of the Province of Bali held a coordination meeting regarding the research collaboration of Merdeka Learning Campus Merdeka (MBKM). (01/07/2022)
The activity which took place in the dean's meeting room, Faculty of Social and Political Sciences, Udayana University, was attended by the Dean of FISIP Udayana, Dr. Drs. I Nengah Punia, M.Sc., along with the staff, Coordinator of the Political Science Study Program, Dr. Tedi Erviantono, S.IP. M.Sc., and lecturer in political science. Also present, members of the Bali KPU Division of Socialization, Voter Education, Community Participation and Human Resources, I Gede John Darmawan, and his staff.
In his remarks as well as opening the meeting, Tedi Erviantono said that the cooperation program with the Bali Provincial KPU would continue in the form of internships, joint research, and teaching practitioners. It should be noted that the MBKM research with partners, namely the Bali Provincial KPU, is an implementation of the MoA and a cooperation agreement signed by both parties on May 25, 2022.
In response to this, John Darmawan welcomed the follow-up programs from the collaboration between FISIP Udayana and the Bali Provincial KPU which could not only benefit both parties and the community, but also align with the mission of the Bali Provincial KPU to realize a better election.
Then, regarding this MBKM research, Dr. Kadek Dwita Apriani, S.Sos, M.I.P., as the representative of the research team explained the MBKM research framework which includes the objectives to be achieved, research variables, research methods, timeline, and outputs and outcomes that will be achieved.
"The blueprints that we will produce from Bali, such as the snake and ladder election game yesterday, we make organizers in other provinces and universities in other provinces move to do the same thing, the same synergy, as we did in Bali," said Kadek Dwita regarding the achievements to be obtained from MBKM research with partners.
In the near future, Udayana Political Science together with the Bali Provincial KPU will carry out an educational survey on elections for novice voters which will take place during the 2022 School Environment Introduction Period (MPLS) activities in regencies/cities throughout Bali. (tr)