Field Assessment of Pharmacy Study Program and Pharmacists Profession by LAM-PTKes
Friday, July 1, 2022, located at the Faculty of Mathematics and Natural Sciences, Udayana University, LAM-PTKes conducted a field assessment or Offline Field Assessment (ALL) on the Pharmacy study program and the Pharmacist Profession Study Program. ALL which was held for 2 days until Saturday 2 July 2022 was attended by:
The Chancellor of Udayana University who was represented by the Vice-Chancellor 1 Prof. Dr. Ir. I Gede Rai Maya Temaja, MP, Ms.
Dean of FMIPA Dra. Ni Luh Watiniasih, M.Sc, Ph.D,
Chair of LP3M represented by LP3M Secretary Prof. Dr. Ir. I Made Alit Karyawan Salain, DEA,
Head of LP2M Prof. Dr. Drh. I Nyoman Suarsana, M.Sc.,
Head of USDI Dr. I Nyoman Putra Sastra, S.T, M.T,
Head of UPT Library, Dr. Ida Ayu Laksmita Sari,
head of Pharmacy and Professional Pharmacist study program,
Head of Unit at FMIPA,
lecturers,
Educational staff,
and students at FMIPA Udayana University.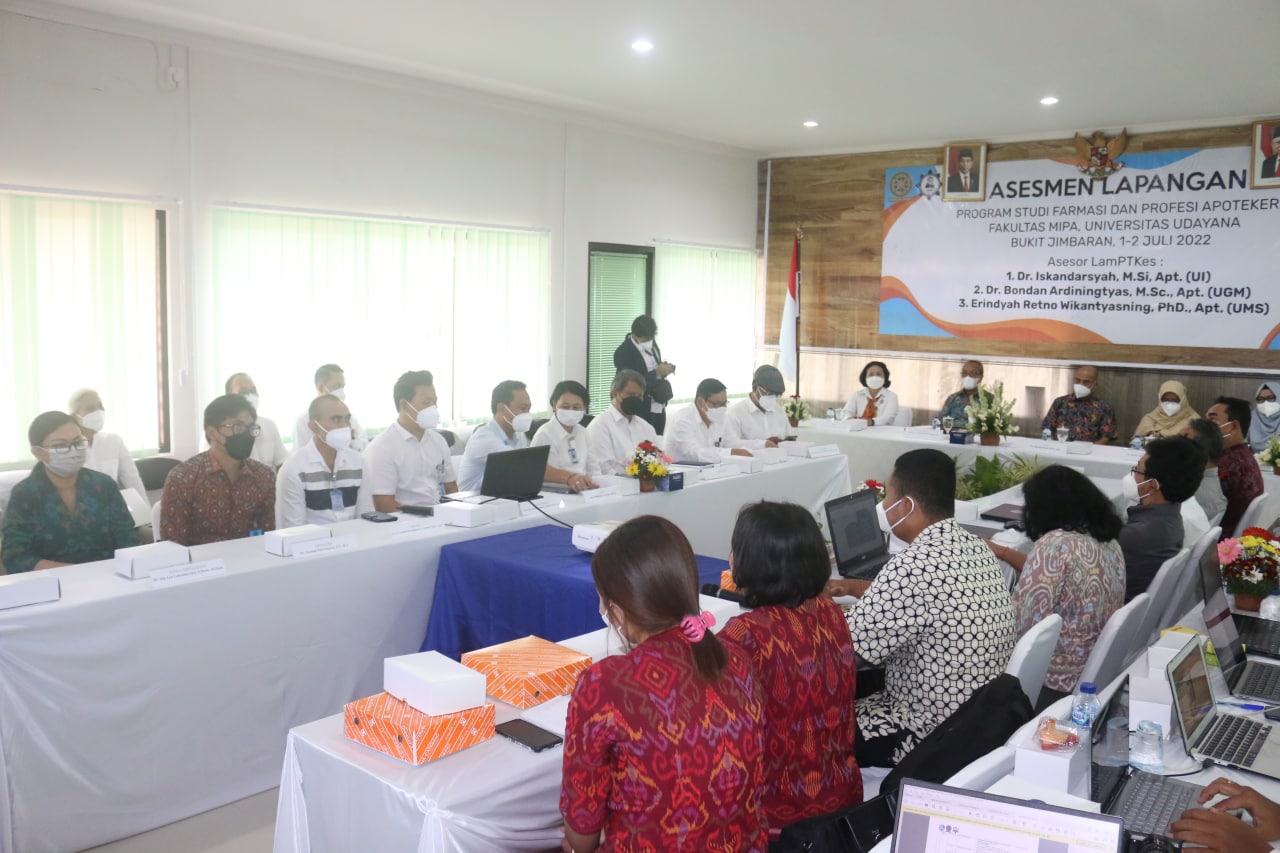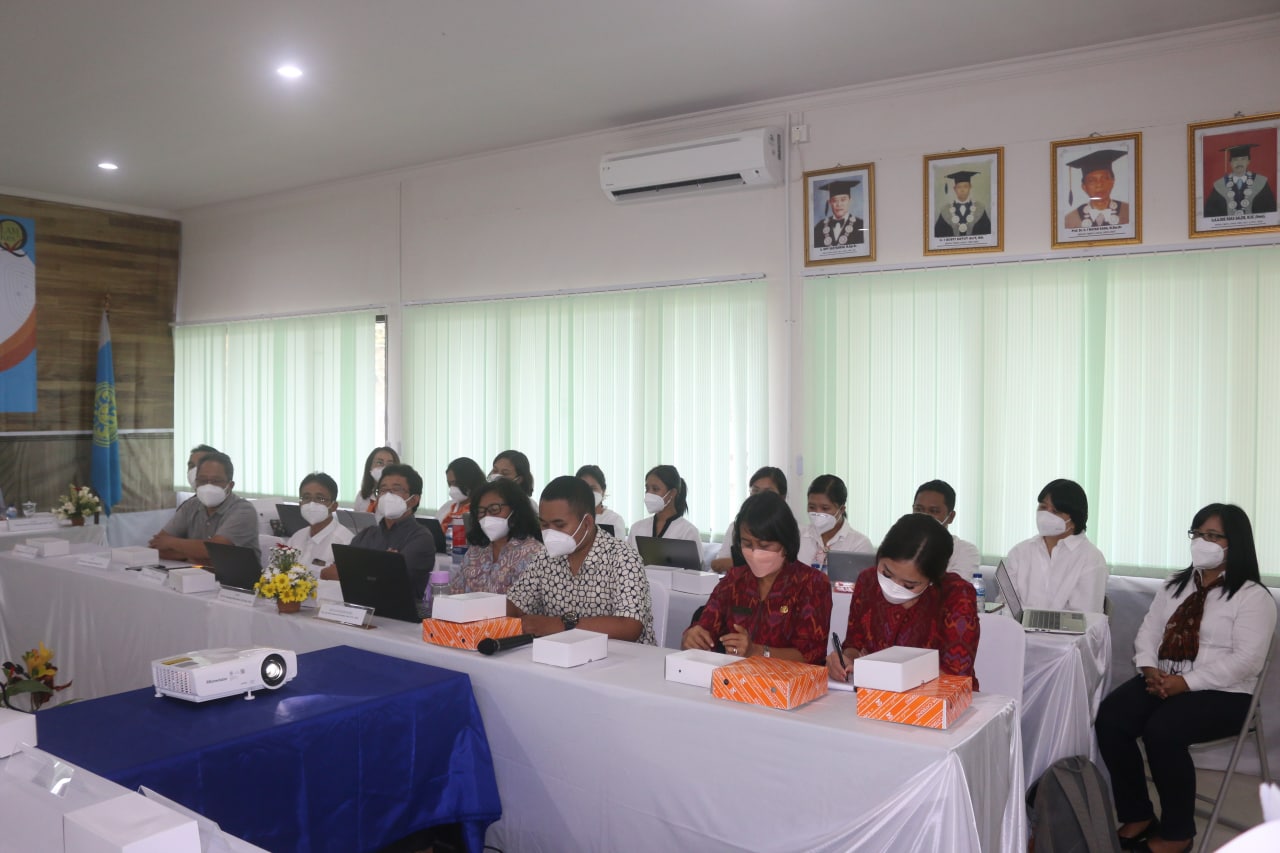 This assessment process or offline field assessment was assessed by 3 LAM-PTKes assessors, namely:
Mr. Dr. Iskandarsyah, M.Si, Apt from the University of Indonesia
Mrs. Dr. Bondan Ardiningtyas, M.Sc., Apt. from Gadjah Mada University
Mrs. Erindyah Retno Wikantyasning, Ph.D, Apt. from Muhammadiyah University of Surakarta
This series of ALL begins with a direct inspection of the pharmacist at the UNUD RSPTN, BWF Puri Gading Pharmacy, PT. Mr. Oles Tokcer, and the Bali Mandara Hospital, then continued with the opening ceremony and assessment in the Faculty of Mathematics and Natural Sciences, Udayana University courtroom.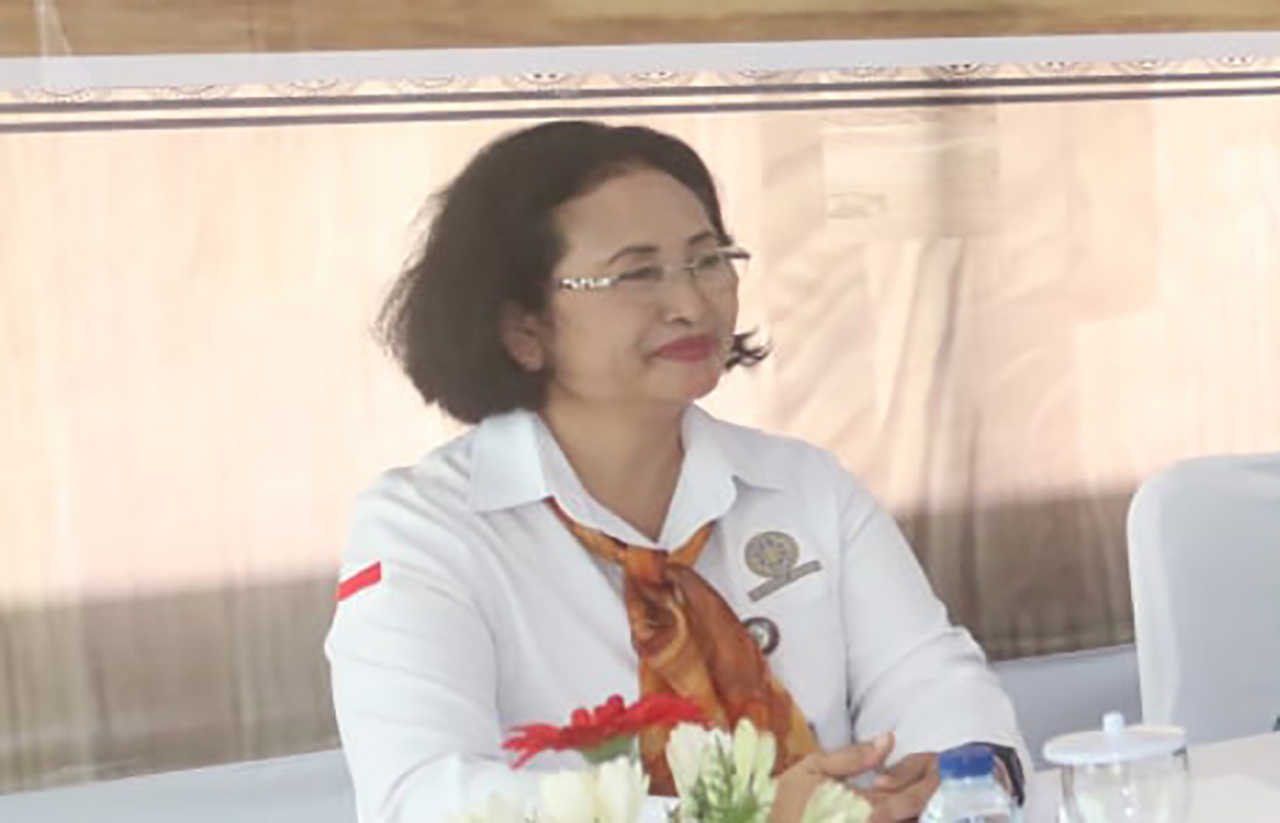 In her remarks, the Dean of FMIPA - Ni Luh Watiniasih expressed his welcome and thank you for the presence of the Assessors who carried out the task of Lamsama to assess our study program so that the accreditation that we had achieved, namely excellence, could be maintained. We have prepared the accreditation assessment well according to reports and records during last year's online accreditation. The accreditation that we have achieved is a very proud achievement for the academic community, UPPS managers, and of course for Udayana University. The accreditation that has been achieved is the result of the hard work of determining, implementing, evaluating, controlling and improving (PPEPP): human resources, infrastructure, and learning processes carried out in accordance with applicable regulations. And always be improved properly to further boost the process and learning outcomes at FMIPA and Udayana University.
The use of technology in coordinating with all parties, be it the FMIPA academic community, alumni, or stakeholders has been carried out using an integrated system supported by USDI and social media. The support we have received from all parties is very useful and plays a role in improving the quality of education at FMIPA.
The policy of the Chancellor of Udayana University regarding the development and improvement of facilities and infrastructure at the Mathematics and Natural Sciences faculty of Udayana University is very high. An example is the handover of a new building located on the Sudirman campus to FMPIA in January 2022 which is currently being used properly.
We can also report that in 2022, the Chancellor has decided to build a new building for FMIPA, which will be utilized and prioritized for the Pharmacy, Pharmacists, and Informatics study program, which are currently located in scattered locations. while the old dean building will be used as a pharmacy laboratory which is currently being renovated, but efforts are still being made to make it one location with the study program. I hope that the development of these facilities and infrastructure will be able to improve the academic and non-academic abilities of our students so that FMIPA graduates have high competitiveness in the world of work and in the community directly.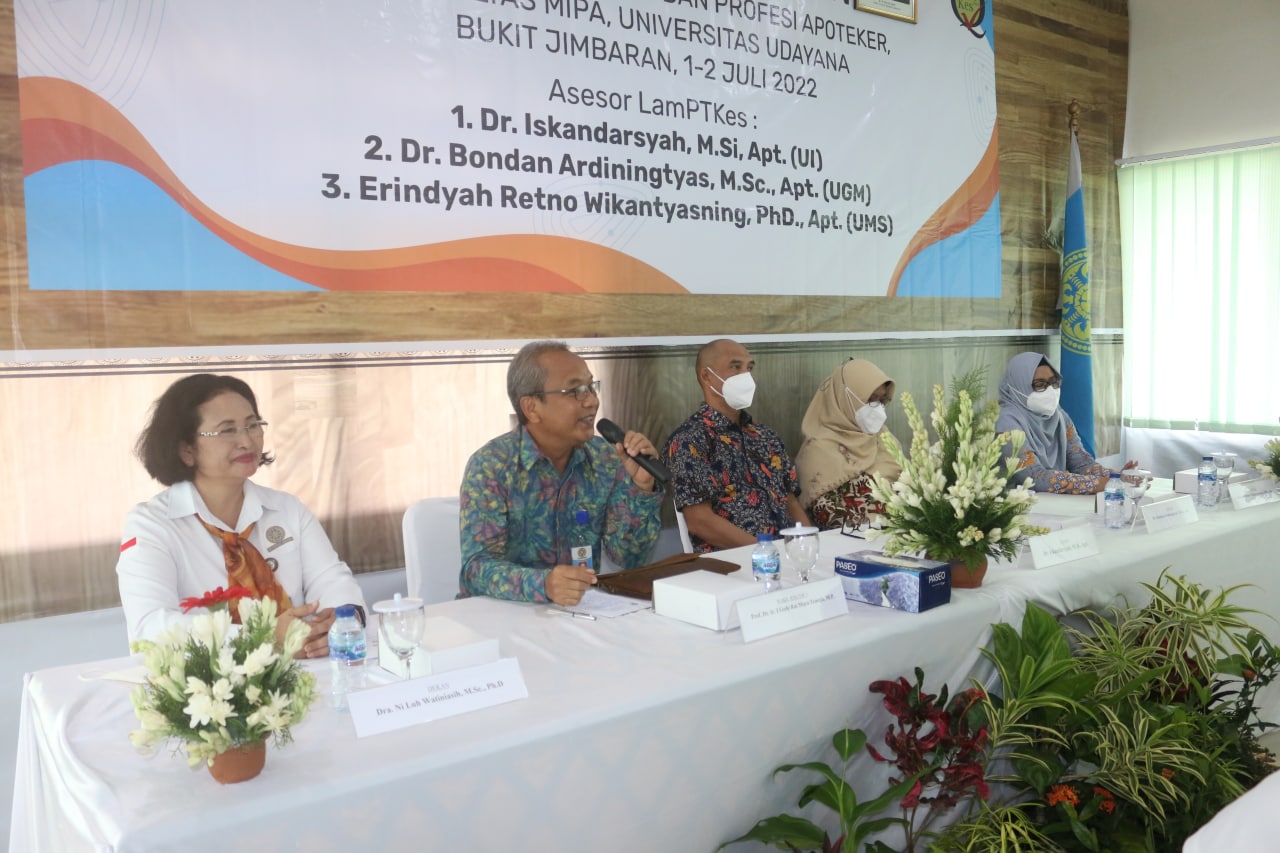 After the dean's remarks, followed by remarks from the Chancellor of Udayana University delivered by WR 1 Prof. Rai Maya also opened the Offline Field Assessment event. In his speech Prof. Rai expressed his gratitude to TYME for his grace because we were all able to attend and be given health in this field assessment event for the Pharmacy and Pharmacists Profession Field Assessment.
Welcome to the LAM-PTKes Assessor at Udayana University who will carry out a field assessment of the pharmacy study program and the pharmacist profession. Present in this room were Mrs. Dean, Mr. secretary of LP3M, Chair of LP2M, Chair of USDI, Chair of the Library, Head of Study Program from the pharmacy study program and the pharmacist profession, then no less important were the task force team, the forums, the chair of the FMIPA senate, lecturer representatives which we cannot mention one by one, thank you for being with us in this field assessment.
This field assessment follows up on the online field assessment that was carried out last year. We are very happy to be attended by all of Asessor
The Unud campus is divided into 3 locations, namely on Jl Pulau Nias where this is the first campus of UNUD, so it will not be moved. then the campus in sudirman which is currently earmarked for postgraduate programs, specialist doctor professions. so that all undergraduate programs that are still in Denpasar have to move to Jimbaran hills. This year and next year we will prepare 7 new deans for faculties that do not yet have a dean building in Bukit Jimbaran.
The current management of Udayana University has been a Public Service Agency (BLU) since 12 years ago and currently we are proposing management to a Legal Entity (BH), where the management of 1T money is enough to make us a legal entity so that we can seek other sources of income. other than student UKT funds, such as cooperating in managing our assets. If in the past, Udayana University's land was dry land, it is different from today. The land in Bukit Jimbaran/Udayana University is very expensive land and is in demand by many parties. To the extent that there are still parties who are still trying to sue for the certificate of our land. Realizing this, we are exploring cooperation with the private sector as a source of income outside UKT.
Udayana University is one of 27 Universities/Universities that are accredited Excellent. We continue to try to follow in the footsteps of big universities such as UI, UGM, UMS of course. Currently, 17 study programs are accredited with Excellence, 59 are accredited A, and others still need to be improved. Udayane University has human resources of 1459 lecturers, 1590 teaching staff, and more than 27,000 active students.
Related to this field assessment, we realize that there may be things that have not been maximized. For that we ask the assessors to allow us to complete the documents that may still be scattered so that our accreditation rating in the pharmacy study program and the pharmacist profession can remain superior. We apologize if there are things that are less pleasing to our reception, as well as our hospitality. Please don't take this shortcoming to heart as well as this superior ranking later, don't take it to heart, but take it to the certificate. concluded Prof. Rai, accompanied by loud applause from the audience.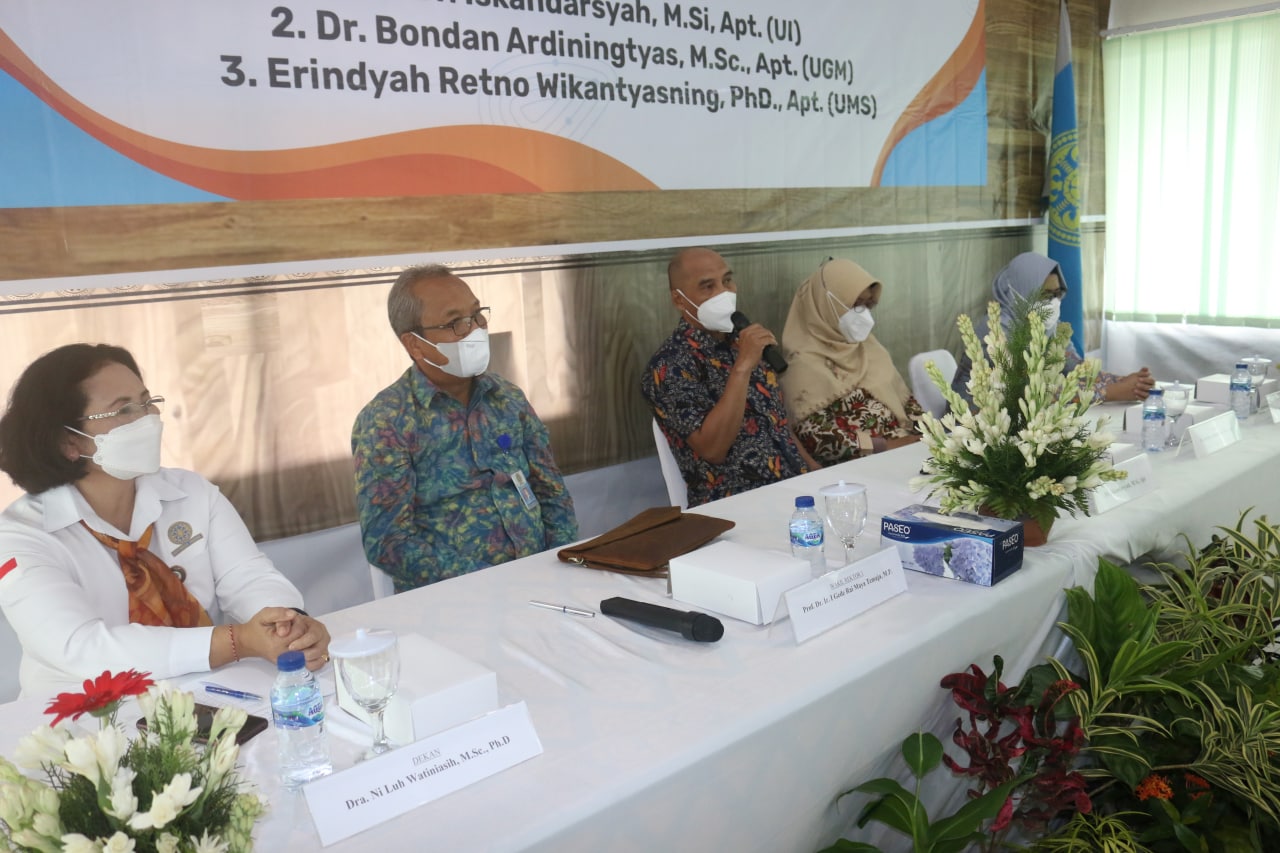 After the welcome and official opening by Prof. Rai Maya, followed by a few words from the assessors represented by Dr. Iskandarsyah, M.Si, Apt. In his remarks, he said good afternoon to the rector, represented by Mr. WR1, the dean, and the invitees who had attended the offline field assessment (ALL). In this assessment, we basically make a visit as one of the requirements in the accreditation process, where last year we carried out ALD but in the accreditation process we were obliged to carry out visits to universities.
If you look at the remarks from the Dean and the Vice-Chancellor, where the facilities and infrastructure have been developed, it is planned to develop a new building so that the learning process is expected to be carried out properly. The dean has also conveyed that PPEPP has also become a culture within Udayana University. The three of us were assigned by LAM-PTKes to carry out this ALL. If at the beginning the Pharmacist Profession Co-Prodi seemed to be worried about this accreditation process, we need to convey that there is no need to worry, especially since we are all colleagues in the same profession. Of course, the goal is to foster so that our students can get the best provision. I think that Udayana University has prepared the best provisions for students. After this we will look at the facilities and infrastructure in the study program, then proceed with drafting. we apologize if in the implementation of this accreditation later there are those who are less pleased, hopefully, this accreditation process can run smoothly and well. After the opening of the ALL process, it was continued with a review of the facilities and infrastructure in the study program, namely in the reading room, administration room, Pharmacy lab, Pharmacology/Phytochemistry Lab, Analysis and Pharmacology lab, Sterile and Microbiology Lab, UPT Forensic, UPT Biosains, Lab Bersama FMIPA, Lab CBT (FK Unud via online), Skill Lab (FK Unud via online) and Lecture Room (BG, BH) and ended with a discussion.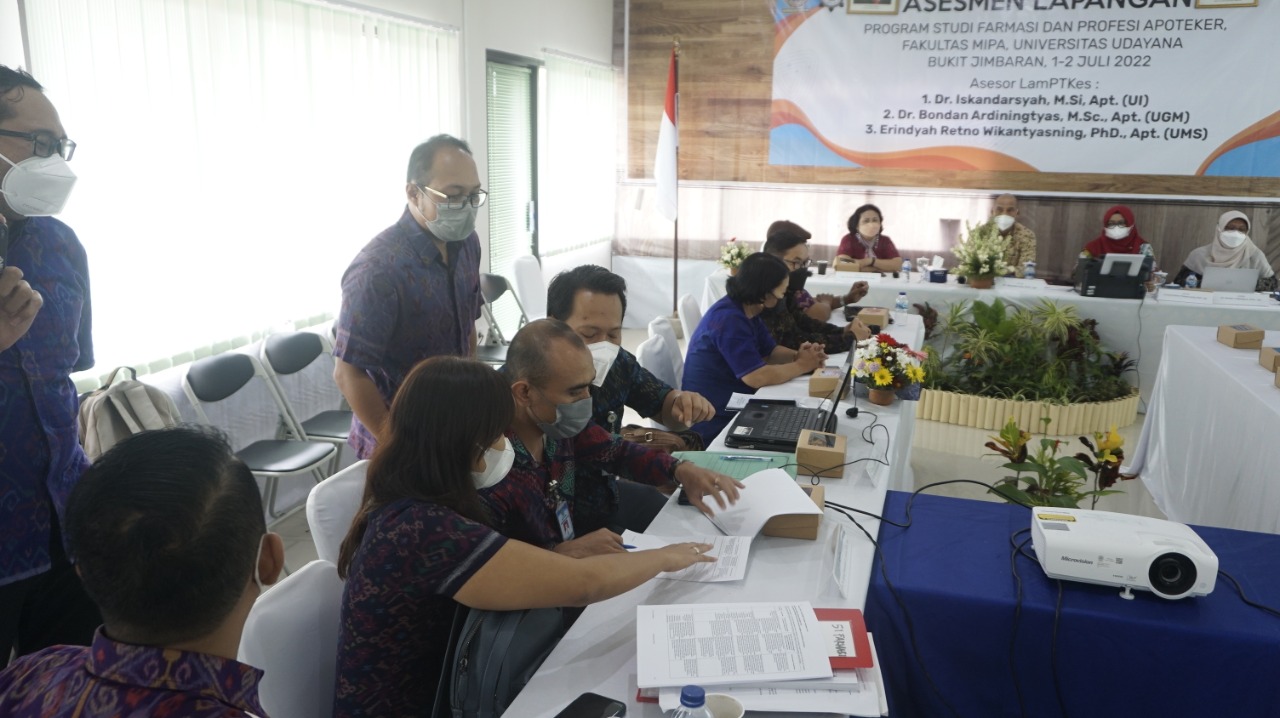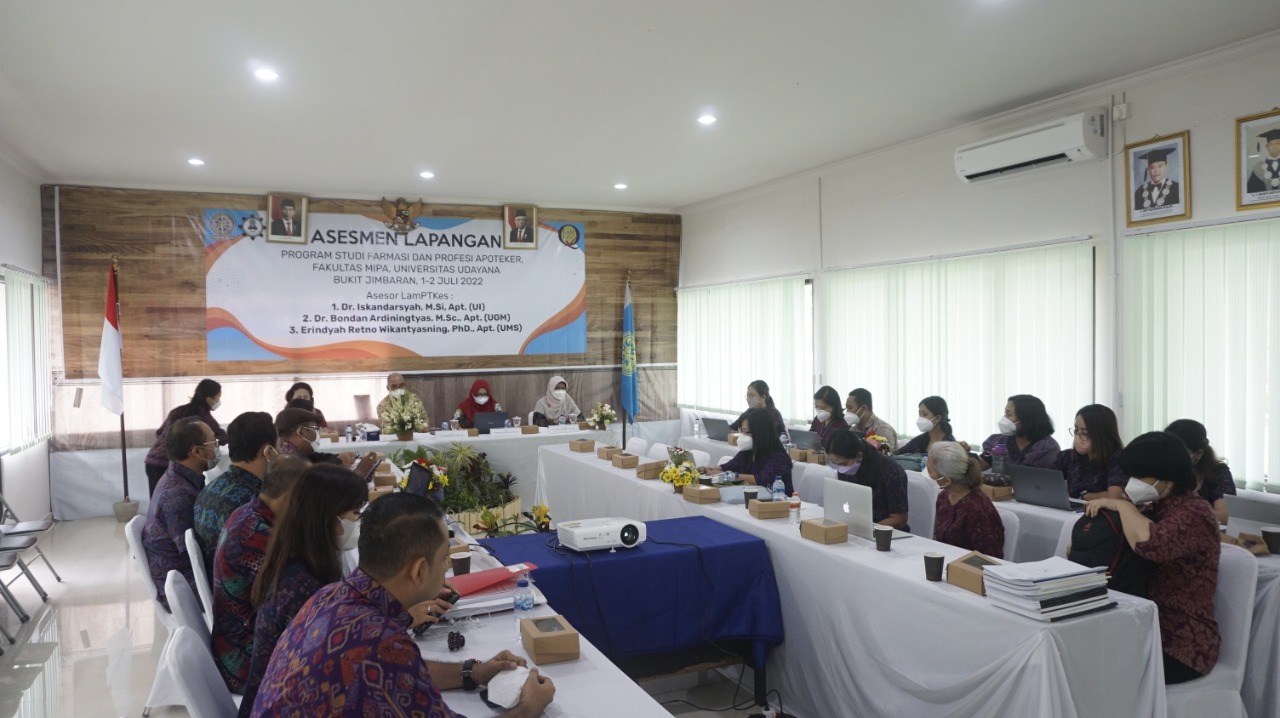 On day 2 (Saturday 2 July 2022), the ALL process was continued with the submission of the results of the independent discussion of the assessors, followed by discussions and the submission of minutes of documents signed by the assessors and study program coordinators as evidence of the agreement on the assessment of ALL which was carried out for two days. this.
The event ended with a group photo. (agm)