LEARNING THE IMPLEMENTATION OF THEORY OF INTERNATIONAL RELATIONSHIPS IN THE FIELD, UNIVERSITY UDAYANA COMMUNITY VISITED UN ESCAP
Posted by Rektorat
01 Oktober 2017
Pageviews 3911 times
International Relations Student Took a Photo Together In The Ballroom of United Nations Economic And Social Commission For Asia And The Pacific (UN ESCAP)
Denpasar – Sunday (01/10), In the field application of theoretical learning, the International Student Affairs Corps (KOMAHI) Udayana University organized an excursion activities to Bangkok-Thailand. This activity was an effort made by KOMAHI Udayana University in developing the ability of International Relations students in the application of the theory in the field. The activities that began on 25th of September run for a week. In the implementation of this activity, the main objective of Udayana University's KOMAHI is to provide field experiences to international relations students and to build relationships with international institutions in the field of international relations.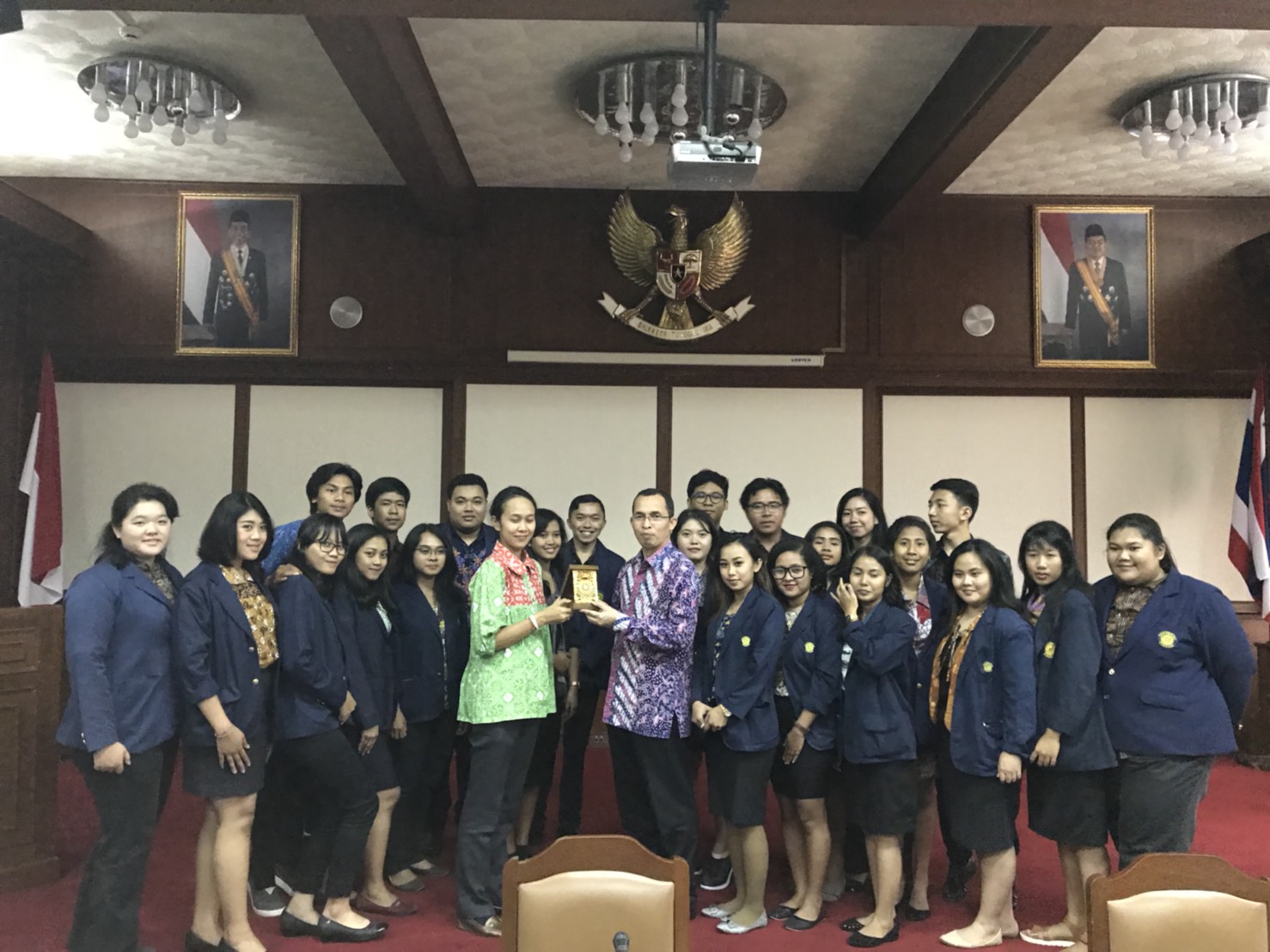 The Handover of Plaque by the Representative Lecturer of International Relations Program to the Embassy of the Republic of Indonesia in Thailand
There are at least three institutions that became the main focus of KOMAHI Udayana University in digging information and knowledge during the execution of this excursion. The three international institutions include the United Nations Economic and Social Commission for Asia and the Pacific (UN ESCAP), the Embassy of the Republic of Indonesia in Thailand, and the National Institute of Development Administration (NIDA).
In an interview session through social media, one of the international relations students who participated in this excursion namely Teresa Tani. Teresa explained if this activity provides valuable experience to International Relations Students in the application of field theory that is taught in the classroom. Teresa added that there were a lot of knowledge gained such as an understanding of cultural differences and state regulations. At the end of the interview, Teresa hoped that the visit of KOMAHI along side with the entourage will result in a fruitful cooperation for Udayana University's International Relations Program. (pratama)