PRESS RELEASE FISIPHORIA FESTIVAL 2022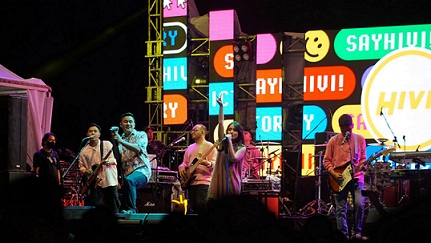 DENPASAR– The peak night of the Fisiphoria Festival was successfully held and enlivened by Type-X and HiVi on Saturday, January 7 2023 which took place at the East of the Bali People's Struggle Monument, Bajra Sandhi, Renon Denpasar.
One of the flagship programs of the Student Executive Board of the Faculty of Social and Political Sciences, Udayana University (BEM FISIP), namely the Fisiphoria Festival (FF) was successfully held in early 2023. The event was able to run smoothly until its peak night on January 7 2023 which took place at East Bali People's Struggle Monument, Bajra Sandhi, Renon Denpasar. The event began with an opening ceremony in the morning which was attended by the dean, head of study program, lecturers, Administrative staff, and leaders of student organizations in the Udayana University FISIP environment. The Fisiphoria Festival began with an opening dance, namely Sekar Jagat, then continued with remarks from the Head of the FF Committee, Ni Wayan Puspita Apriliana Kerti. Followed by remarks by the Head of BEM FISIP 2022, I Ketut Wiratama Arimbawa and closed with a symbolic inauguration of the event by Mr. I Made Anom Wiranata as Deputy Dean III. Then, it was followed by the appearance of each study program at Udayana University's FISIP environment.
After the formal program in the morning, the highlight of the Fisiphoria Festival was held in the evening with a series of performances ranging from dance by representatives of the Communication Studies study program to performances by local bands and DJs. The event was even more lively because it entered the main event, namely the appearance of two FF guest stars namely, HiVi! and Type-X. The event ran in a conducive, safe and orderly manner until the end of the Fisiphoria Festival. (07/01/202).