The Important Role of Udayana FISIP Students in the Think20 (T20) Indonesia Summit 2022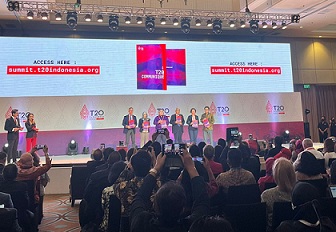 Badung, 5-6 September 2022, twenty students from the Faculty of Social and Political Sciences, Udayana University took part in the Think20 Indonesia Summit committee which was held at the Hilton Bali Resort, Nusa Dua, as Liaison Officer (LO). Think20 or more often referred to as T20 is one of the G20 Presidency's initiative activities that focuses on comprehensive discussions of G20 country think-tanks on policy-related analysis in predetermined fields. The results of the T20 are expected to be a reference for the G20 Presidency in determining policies that have positive, real, and sustainable impacts for many countries.
In its implementation, the T20 event was divided into two major sessions. These two large sessions are divided into Plenary Sessions and Parallel Sessions, which are further divided into smaller sessions. The discussion points in T20 were divided into nine Task Forces (TF) which are nine priority issues. Some of them are Open Trade and Sustainable Investment, Governing Climate Target, Energy Transition and Environmental Protection, and International Finance and Economic Recovery. The series of T20 activities opened with a virtual speech from President Joko Widodo and was attended by several important figures such as Professor Bambang Brodjonegoro, Chairman of the MPR Bambang Soesatyo, and many other prominent academics from many countries.
The experience of taking part in the Think20 event provides a new color and experience for the students of FISIP Udayana University in opening their minds and increasing their sensitivity to social phenomena, especially related to global issues currently facing the world.