KOLABORASI UNUD-UI DALAM SEMINAR HUBUNGAN INTERNASIONAL MANFAAT STRATEGIS PRESIDENSI G20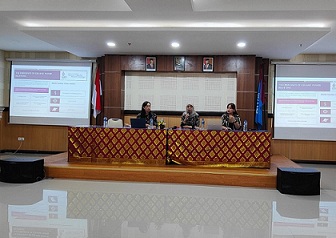 On August 31, 2022, Unud International Relations Study Program held a seminar entitled "Strategic Benefits of the G20 Presidency for Indonesia's Political Economy Goals on the Global Stage." Two invited speakers, namely Asra Virgianita, Ph.D. (Coordinator of International Relations Study Program, University of Indonesia) and Ni Nyoman Clara Listya Dewi, S.IP., MA. (International Relations Lecturer, Udayana University), presented material about Indonesia's position which is considered to have a major influence in the global political-economic constellation, especially at the moment of the G20 Presidency. Besides being trusted as the host of the G20 forum, Indonesia can also take advantage of this presidency to improve the country's image as a safe place, and open to global economic fields.
Some of the G20 agendas that were also presented by the speakers were Global Health Architecture, Digital and Economic Transformation, and Energy Transmission. Furthermore, related to global health issues, planning for the distribution of vaccines to all countries and cooperation in vaccine procurement are priorities on the international agenda. Indonesia has also contributed through 'hands on' diplomacy efforts in recent years. In addition, the topic of optimizing digital technology and reliable energy is a challenge that must be faced by Indonesia to be realized, so that in the future it is considered capable of directing the world for the better.
The question and answer session with the seminar participants was moderated by an IR Lecturer at Unud, Putu Ratih Kumala Dewi, S.H., M.Hub.Int. The event, which was held in the FISIP Sudirman Campus Hall, lasted approximately four hours, and closed with a summary of the overall material.
Contributors: I Gusti Ayu Anggun Diah, I Putu Bagus Brahmastra, Dewa Ngakan Putu Abhi Mahardika