FISIP Sport Day as a Series of Activities of the 13th BKFISIP Udayana University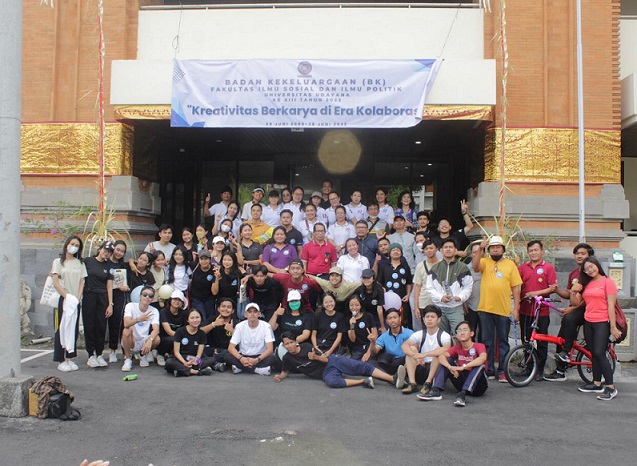 Denpasar, FISIP Sport Day is one of a series of activities of the 13th Family Body (BK) Faculty of Social and Political Sciences, Udayana University. This activity will take place on June 24, 2022, in the courtyard of the FISIP UNUD Building. BKFISIP 2022 has the theme "Creativity at Work in the Era of Collaboration" by prioritizing collaboration from all parties to produce useful works. The 13th BKFISIP was chaired by Richard Togaranta Ginting, S.Sos., M.Hum from the D3 Study Program of the UNUD FISIP Library.
The event started with remarks from the Dean of FISIP UNUD, Dr. Drs. I Nengah Punia, M.Sc., then the cutting of the ribbon and releasing the birds by the Dean together with Dr. Ni Made Ras Amanda Gelgel, S.Sos., M.Si. as Deputy Dean I, Dr. Piers Andreas Noak, SH., M.Sc., Vice Dean II, Dr. I Made Anom Wiranata., S.IP., MA., as Deputy Dean III as the opening act of FISIP Sport Day. The first activity is a leisurely walk followed by all participants with a route of 4 KM. The participants were given a lottery number with attractive prizes with the main prize being a bicycle. The next event was interesting games such as eating crackers, sack races, carrying marbles with a spoon, rubber relay and running balloons. The participants are first divided into 8 groups of 10 members each. The games were participated by students, lecturers and education staff in FISIP UNUD and became a momentum to familiarize the academic community.
The event continued with the announcement of the game winners from each group as well as the announcement of door prizes such as Rice Cookers, Smartphones, Dispensers, Silk Cloths, Tumblers and the main prize, namely Bicycles. The event ended with a photo session with the lucky draw winners and FISIP participantsSport Day 2022.