Information Technology Social Service, Faculty of Engineering, Udayana University 2022 at the Salam Orphanage, Delod Peken, Tabanan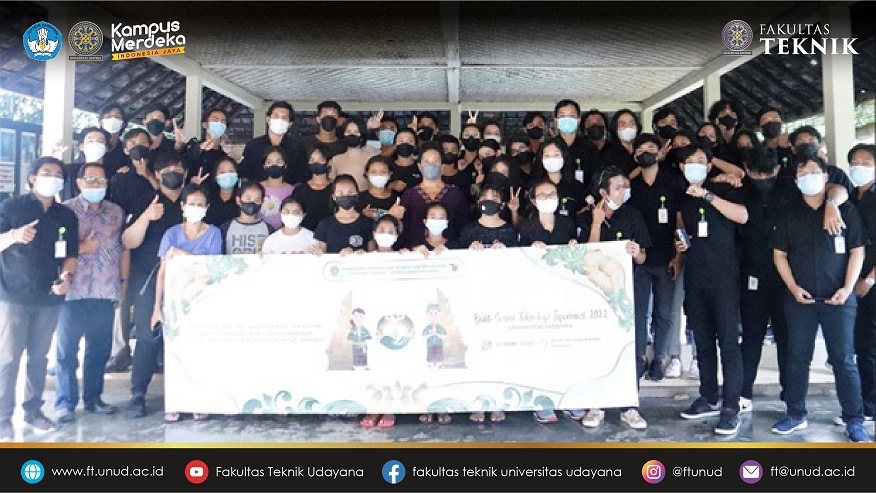 The Information Technology Study Program, Faculty of Engineering, Udayana University Conducted Social Service Activities at the Salam Orphanage, Delod Peken, Tabanan District, Tabanan Regency on Sunday 12 June 2022. Social Service Activities are an annual work program from the information technology student association and have the aim of growing a sense of concern as students towards people in need and can help people who really need it materially and non-materially. Therefore, this activity took the theme of synergizing and optimizing information technology through social services. This Social Service activity was attended by students, lecturers, Information Technology Study Program Coordinator and was welcomed by the head of the orphanage, Mr. Gusti Ketut Suardana, along with 5 caretakers of the orphanage.
The Salam Orphanage is an orphanage that was established in 1979. The Salam Orphanage can accommodate a maximum of 50 foster children. Currently, there are 30 foster children living in the orphanage. 8 of them have completed education at the High School level and one of them has been accepted at Udayana University through the National Selection for State Universities. The Head of the Orphanage essentially expressed his gratitude and gratitude for the assistance that had been given, as well as his hope that this social service activity could continue to be carried out so that it could help others and increase the sense of concern as students for the wider community.
This 2022 Information Technology Social Service activity was prepared within 1 month. Information Technology Social Service activities began with the inauguration of the event which was inaugurated by the Coordinator of the Information Technology Study Program. Followed by the handing over of certificates and symbols of social service assistance in the form of books that symbolize knowledge and sugar which symbolizes basic needs. After the inauguration of the event, continued with the provision of materials about Information Technology such as introductions, benefits and examples of information technology itself. The event that was packaged in the form of a game made the children excited until the activity ended. By holding this activity, it is hoped that the academic community will be able to make a real contribution to the academic community to become more familiar with the use of information technology for positive things in order to improve the quality of the nation's children.